SPECIALTIES > ANTIQUE RADIO & PHONOGRAPH RESTORATION
Antique Radio & Phonograph Restoration
You might guess, given the business we're in, that antique radio, phonograph, and record player restoration is very important to us. Nothing quite takes us back to the simpler days before television, The Golden Age of Radio, like an antique radio; where families gathered 'round to listen to live drama, comedy, music, and news. These listeners were our grandparents and great-grandparents.
Long gone are the days that we listen to the radio outside of our cars—even now in our cars, many of us listen to XM or Sirius radio. They aren't old-school radios that depend on antennas to function.

At Mumford Restoration, we believe that antique radios, phonographs, and record players are too valuable to be junked or to just sit and collect dust – they are treasured pieces that link us to the past and rekindle the memories of times gone by when life was not technology dependent. If we don't restore and preserve this precious piece of history, who will?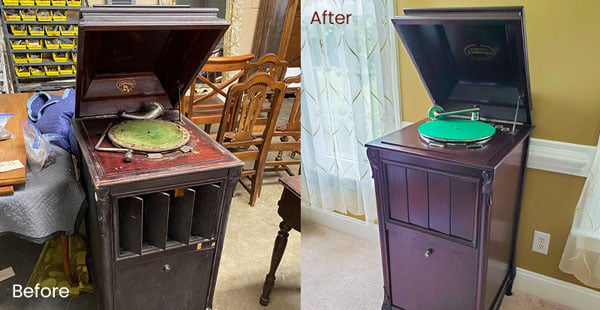 There are two distinct aspects of radio, phonograph, and record player restoration—the technical, inner workings—tubes, wires, and such and the exterior cabinetry that it's housed in. Some pieces need both, while some need one or the other.
If your radio needs technical restoration and cabinetry work:
We begin the restoration process with an in-depth evaluation from our Radio Restoration Team.

They will evaluate and test every bulb, part, and wire to determine its working status and make specific recommendations as to what parts need to be sourced and replaced to bring it back into working condition.

You will receive a detailed report with the results of the evaluation, restoration options, and cost.

Our radio evaluations cost $350+tax and we credit 50% of that towards the restoration cost, should you proceed.
Because we are one of the few companies in the United States still restoring antique radios, phonographs, and record players, the demand for our services is high and the waitlist for restoration is long.

If you'd like more information on restoring your antique radio or to be added to our evaluation queue, connect with us today.
Antique Radio Restoration: A Rare Talent
For the average laymen, trying to repair a radio, phonograph, or record player made decades ago can be quite challenging. Components were not well standardized in years past. Every manufacturer had their own concept of how radios were built. On top of that, the sheer number of models available was staggering.
What makes many of these pieces so valuable today is that many of the vintage and novelty radios, phonographs, and record players were only on the market for a few years. As a result, it makes it very complicated for someone without the appropriate skills to perform an antique radio, phonograph, or record player restoration correctly.
For 40 years, Mumford Restoration has been restoring antique and vintage radios, phonographs, & record players. From the earliest crystal radio sets to vintage transistor radios, to one of the most sophisticated and high valued tube powered radios ever made (the Zenith Stratosphere 1000 Z), we have the expertise to perform the in-depth research to source parts and perform the physical repairs and restoration necessary to restore your radio to its original state.
If you're interested in pursuing an evaluation for your antique radio, phonograph, or record player, connect with one of our Restoration Consultants today to discuss your options.
A few quick tips about vintage radios:
Be careful when plugging in an old cord! You could get shocked!

The reason your antique radio does not play well could be that your radio has never been recapped and therefore has bad capacitors. To begin repair we suggest first replacing the old paper/wax and electrolytic capacitors. These components were not designed to have a long life.

Old radios have very high voltage potential. In fact, many vintage radios actually tie the hot end of the line directly to their metal chassis.

Sometimes the ground wire is loose, which may cause it to hum when turned on.
If you have one of these wonderful, old pieces of history we hope you will entrust it to us. Antique radio restoration and repair is one of our specialties.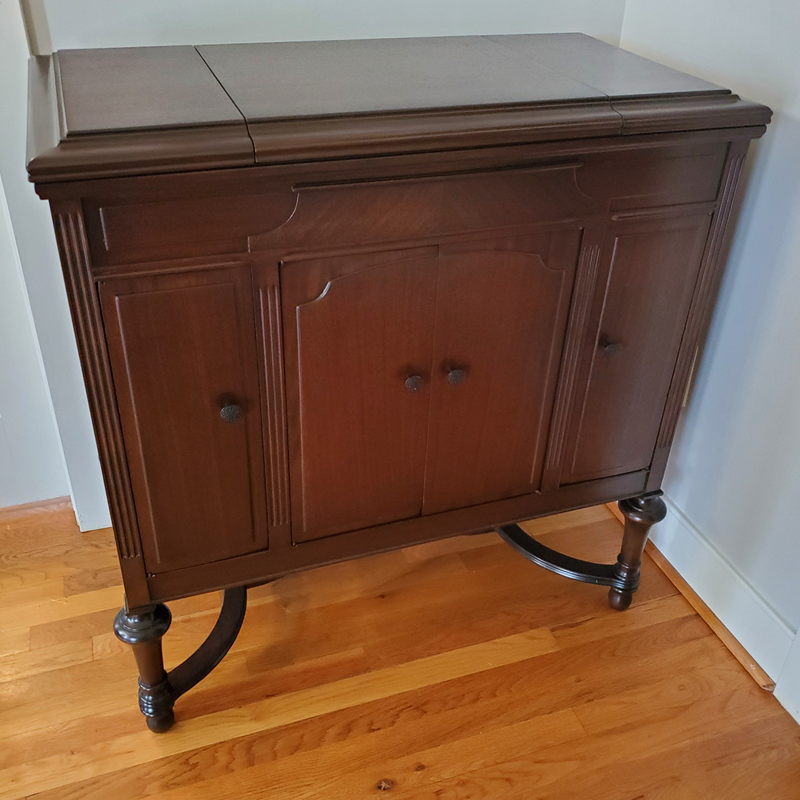 We repair and restore all brands of antique radios including:


Contact us

We pick-up and deliver in many areas of North Carolina. Because we serve clients all over the U.S. it is very common for clients to ship their radio to us for restoration and of course, we ship it back.
Questions about having your heirloom or antique radio or Victrola restored? Contact one of our Restoration Consultants today to discuss your goals.
Request An Evaluation Give us a callChat with us