SPECIALTIES > FURNITURE REPAIR & RESTORATION
Furniture Repair & Restoration
Restore Your Family Memories
At Mumford Restoration, furniture is more than a piece of wood. Alive and rich with history, it provokes our fondest memories. From Raleigh-Durham to the coast and the mountains, North Carolina families, museums, and art societies entrust us to preserve their treasured antiques and heirlooms—keeping memories alive for generations to come.
With over 100 years of combined experience, our craftsmen are meticulous in period-correct preservation and restoration of fine-furniture and antiques—from historic brands such as Thomas Day, Eastlake, Drexel Heritage, and Duncan Phyfe to iconic styles like Federal and Empire. You can trust us to work miracles to restore your family memories.
What furniture restoration services are you in need of? Whether it's a sentimental, solid wood piece like Grandma's dining room table or a non-sentimental, high-quality piece like a Stanley bedroom dresser—if your wood furniture needs to be refinished, repaired, or completely restored, we can bring your treasured pieces back to life. Check out some of our most amazing furniture restorations in our before and after gallery below!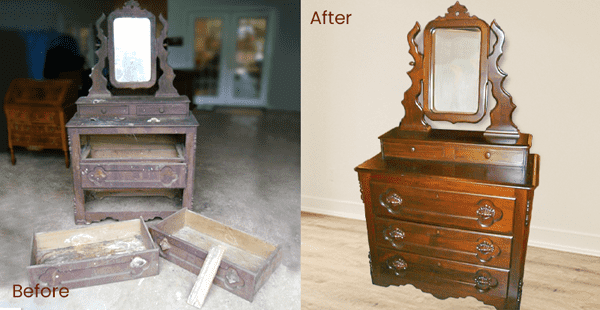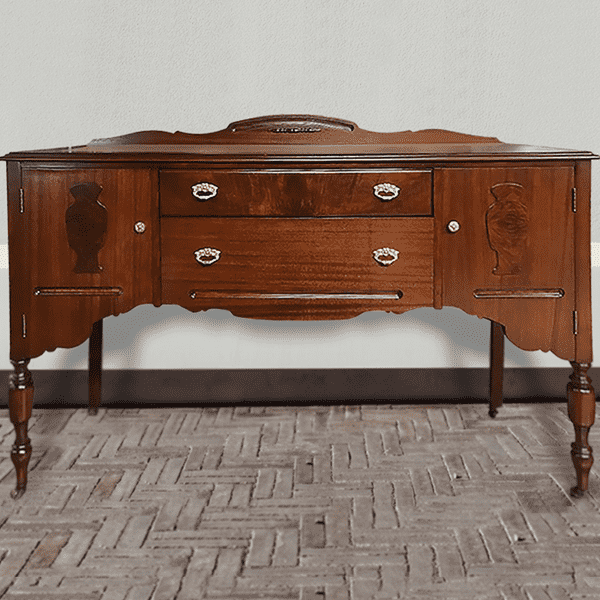 We offer four (4) service levels to meet every furniture restoration need you may have. Scroll down to review them.
How do you know which level is best for your precious piece? It depends on several factors:
How do you visualize it when it's restored?

What is your intended use for the piece(s)?

What type of damage it has suffered—breaks, veneer damage, faded finish, water/fire damage, etc.?

What quality of wood or material is it?
If you're not sure what level of service your piece may need, our Restoration Consultants can evaluate your piece(s), understand more about your goals and your vision, and guide you with custom furniture restoration options to meet your specific needs.
Click the button below to tell us about your piece(s) and a Restoration Consultant will be in touch soon to discuss restoring your furniture.
Most Popular
Platinum Level
Full Restoration
Our Platinum furniture restoration service is the crème del a crème of our wood restoration services. When we are conducting this service on a piece, we are completely restoring it, in its entirety. From removing the finish by hand, (not dip stripping) to hand sanding, hand staining and finishing. It is a perfect solution for pieces where the wood and finish are severely damaged--the only recourse is a platinum service. This produces a showroom quality result and will last for decades upon decades with proper care.
Disassemble

Remove all finish by hand

Hand Sanding
Hand Staining

Choose stain color or match sample

Finishing
Hardware Replaced

Hardware Polished

Reassemble
Gold Level
Refinish Top & Refurbish Base
Our Gold level service includes a complete refinish and restoration of one surface of a piece that may be in poor condition.
For example, if we were to do a Gold Service on your dining room table, we'd be refinishing the top only and touch up the legs and apply a clear coat of finish to ensure the continuity of color and sheen across the table.
Disassemble

Solvent Wash

Hand staining to match color

Hardware polished

Remove finish by hand, of one area such as the top

Hand sanding

Finishing of top and base to match

Reassemble
Silver Level
Refurbish
Our Silver level service is ideal for wood furniture with a finish that is still in decent condition and there are no deep scratches or dings that are through the finish into the wood that would require a full restoration. For example, if we did a silver service on an end table, it would include the following:
Cleaning

Solvent wash/prepare finish

Touch up scratches

Match color

Finishing entire piece, clear coat with lacquer, shellac, oil, or beeswax

Hardware cleaned
Bronze Level
Repair
Our bronze level service is perfect for furniture that only needs minor repairs such as:
Minor touch-ups to surface level scratches, dents, or dings in the finish or paint—this can be in your home or in-shop, depending on the severity.

Re-glue of a slightly loose joint

Minor drawer repair for one drawer
Contact us

Would you like to speak with a Restoration Consultant about restoring your sentimental furniture? Connect with us today to determine the best approach to preserve your family memories.
Submit Your PicturesGive Us a CallChat With Us