SPECIALTIES > EXPERT FURNITURE UPHOLSTERY & REPAIR
Expert Furniture Upholstery & Repair
Furniture Upholstery:
A Facelift For Your Furniture
At Mumford Restoration, we delight in the furniture upholstery & repair challenges that have earned us our stellar reputation in furniture restoration. Whether it's multiple pieces such as a set of chairs; a single chair with multiple contours, tufting, and design elements; or a sofa that may become the centerpiece of the room, we are ready to share our expertise and decades of experience with you!

Connect with a Restoration Consultant today to discuss your possibilities!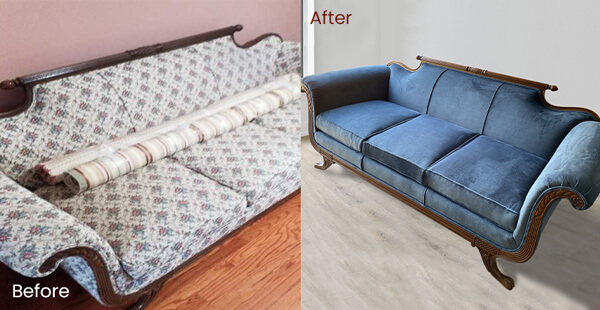 Look at the difference new fabric made for the antique Duncan Phyfe sofa, pictured above.
We not only offer complete upholstery services, but we also repair damaged upholstered furniture. Whether damaged by fire, water, pets, moving, or any other reason, we can repair it. We offer four levels of service to accommodate every repair, budget, and design need. From Platinum Service which includes restoring the wood to Bronze Service for minor upholstery needs such as foam or down replacement, we've got you covered. No pun intended. Find our service levels here:

If you're not sure what level of upholstery service your piece(s) may need, contact us today for expedited service. We'll connect you with one of our expert Restoration Consultants, who will evaluate your piece, discuss your goals and vision, and provide upholstery restoration options perfect for you!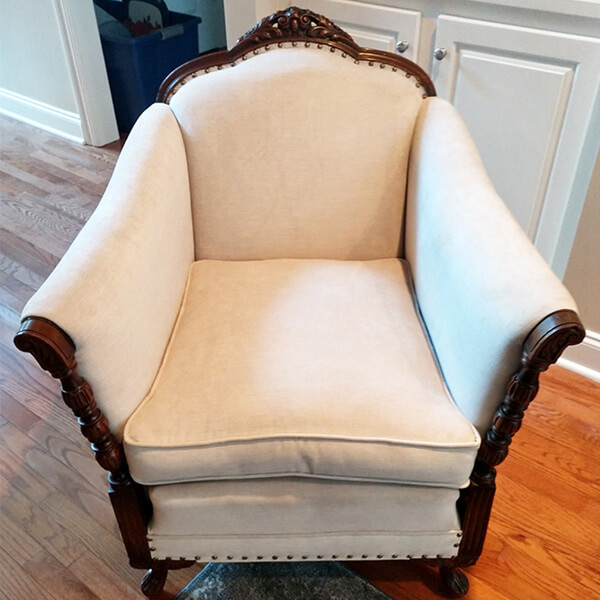 Sometimes Ya Just Need a Lil' Extra Padding
Furniture upholstery is the face of the piece which may often be fabric or leather with supporting springs, webbing, and padding. The word "upholstery" comes from the Middle English word "upholder" which meant a craftsman who created a platform to hold goods. Mumford Restoration employs master upholsterers , who are an integral part of the furniture restoration process, with a combined 100+ years of experience updating and strengthening furniture from the supporting layers of the foundation to the surface.

Underneath the lovely, inviting surface of your sofa or chair are its bones, often a wood frame that needs layers of material to build the comfortable padding underneath the leather or fabric on which you and your family sit.
For centuries, materials such as sawdust, grass, feathers, goat hair and horsehair were used. Today most padding consists of cotton foam which requires careful measuring, cutting, and fitting to achieve maximum comfort and the most appealing smooth surface. Other padding or stuffing types we work with are goose down, cotton, and dacron.

The expert craftsmen at Mumford Restoration will bring to life your vision for your cherished piece. From antique sofas, settees, and wingback chairs to more modern, high-end pieces, sectional sofas, recliners, and dining chairs, we can help you create a look that suits your style and design ideas.
Bring your vision to life! Connect with a Restoration Consultant to get started today!
love the piece, not the fabric? Customize it.
The maturity of a favorite, older piece of furniture may cause it to look outdated or to fall into disrepair. If the "bones" of the piece are in good shape, it is often less costly to update the "skin" of the piece rather than buying new furniture. But of course, if your furniture is sentimental, buying new isn't an option, so reupholstering your Grandma's antique sofa is your only answer. Our workshop is filled with sentimental pieces that hold the memories of families for generations.

The other advantage to older upholstered pieces is that sofas over 30 years old often have much higher quality frames than the pieces produced today. You may own or know someone who owns a modern sofa where the frame has broken due to kids or pets jumping on it, or just from wear and tear - this is due to the low quality materials used today as well as trying to use less wood to minimize weight and costs. So, that 50 year old sofa that is heavy but outdated may be worth restoring simply because the frame is far superior to what you could buy today.
give your piece new life!
While we often restore historic pieces from renowned craftsmen such as Thomas Day pieces, pictured here; we do provide as much customization as our clients want or need. We can replace foam or build cushions. We can even make pillows to match your pieces.

We offer fabric and leather options not available in retail settings, which are exclusive to designers and contractors. We work with clients and/or their designers to choose styles and restorations that fit their budget, space, and design preferences, including multiple fabric patterns on one piece.
Bring your vision to life! Connect with a Restoration Consultant today.
Interested in leather upholstery repair? Learn more about our leather upholstery repair and restoration services by clicking below.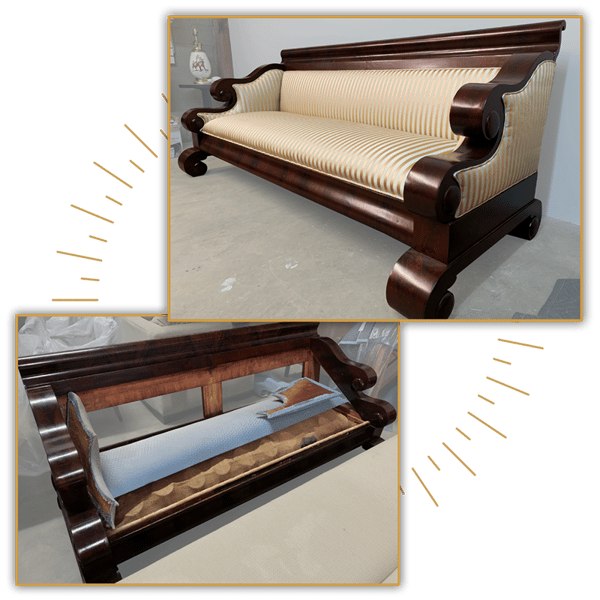 Do you have furniture that you're considering having reupholstered?
Call or email us today to schedule an evaluation with one of our Restoration Consultants. We'll guide you to the best restoration or repair approach for your piece.
Request A Quote
Give us a call
Chat with us
Most Popular
Platinum Level
Full Restoration
Removal of all fabric, foam and stuffing

Restore exposed wood

Replace webbing

Retie springs

Replace foam

Reupholster in new fabric
Gold Level
Reuphostery With Restuffing
Removal of old fabric and foam

Make frame repairs

Refurbish or touch up exposed wood

Replace foam or stuffing

Re-upholster in new fabric
Silver Level
Reupholstery
Removal of old fabric

Make minor repairs

Refurbish or touch up exposed wood

Re-upholster in new fabric
Bronze Level
Cleaning or Minor Repair
Hand stitching,spot cleaning or deep cleaning of fabric

Polish exposed wood
Contact us

Contact one of our Restoration Consultants today to discuss your goals.


Request an EstimateGive Us a CallChat With Us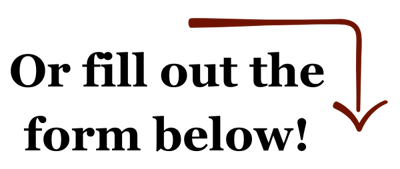 Looking for other services? Check out
Office | Fire & Water Damage