Repair – Restore – Refinish – Preserve Your Family Heirlooms
Don't trust your precious pieces with just anyone. With more than 150 years of combined experience and third-generation craftsmen, Mumford Restoration is trusted by families, museums, and art societies in Raleigh-Durham, all of North Carolina, and across the U.S., to provide best-in-class restoration and repairs of sentimental & fine-furniture, antiques, and family heirlooms.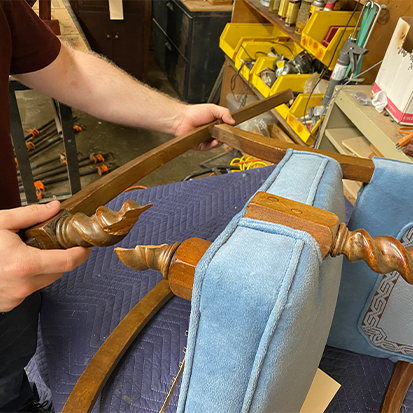 Repair Your Furniture
Furniture repairs come in all shapes and sizes and range in severity from simple to major. Incidentally, furniture repair businesses come in all shapes and sizes too and range in quality from excellent to poor. There is no one size fits all or one solution for every repair. Every furniture repair is different. It requires experienced craftsmen to assess the problem and provide a long-term solution—not an aesthetic only, short-term fix that could be dangerous down the road. Find out more about furniture repairs here.
Restore Your Furniture or Heirlooms
Restoration as defined by Webster's dictionary as "a bringing back into a former, normal or unimpaired state or condition…a representation of the original form."
In other words, restoring involves bringing back the original condition through the investigation of what process fits the need, the historical, sentimental, and intrinsic value of any piece. A unique piece requires a unique process. Read more about antique and heirloom restoration here.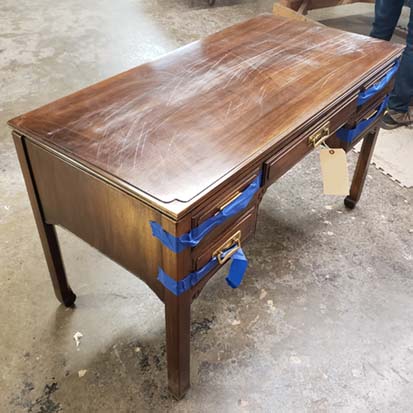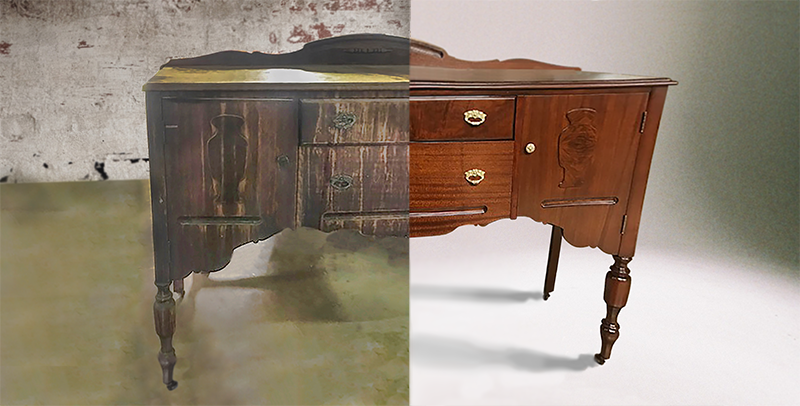 Refinish Your Furniture
Raleigh-Durham area and across North Carolina. But what do we mean when we say we're refinishing furniture or antiques?
The Merriam-Webster definition of refinishing is, "to give a new surface to". This includes the removal of the existing finish, sanding, staining, and applying a new finish, which may or may not be the correct process for what a piece needs depending on its historical, sentimental, and intrinsic value. Read more about refinishing antique furniture here.
Preserve Your Antique or Heirloom Furniture
Mumford Restoration specializes in keeping your treasured memories alive through the preservation of your antiques, heirlooms, and furniture. But what do we mean when we use the term preservation?
Preservation, as defined by Merriam-Webster is, "the activity or process of keeping something valued alive, intact, or free from damage or decay." In other words when you have a Louis XV piece, you don't refinish it, perhaps don't even restore it (unless of course it has been neglected for 100 years). Focus on preserving, protecting, cleaning, and minor repairs, as you would a fine art piece that is meant to last for centuries. Learn more about antique furniture preservation here.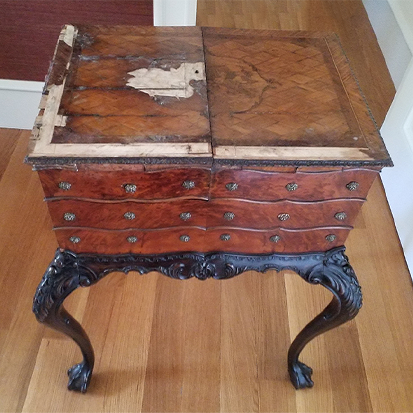 Services that we offer
Contact us

You can choose one of the three suitable ways to contact us.


Request an EstimateGive Us a Call Chat With Us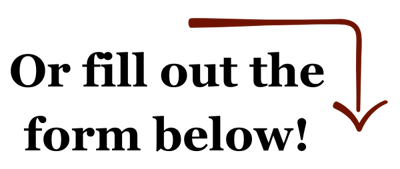 Looking for other services? Check out
Office | Fire & Water Damage