SPECIALTIES > ANTIQUE LAMP & CHANDELIER RESTORATION
ANTIQUE LAMP &
CHANDELIER
RESTORATION
Bring Your Antique Lamps & Chandeliers back To Light!

Do you have an heirloom or antique lamp or ornate silver or brass chandelier that is broken, tarnished, or not working?
If you have a classic lighting fixture or a family heirloom as the centerpiece of your living space, that needs to be repaired, re-wired, restored, and/or polished, Mumford Restoration can restore them to their original beauty and get them working properly again!
Read on to learn more about our services, process, approach, and see some of our amazing transformations.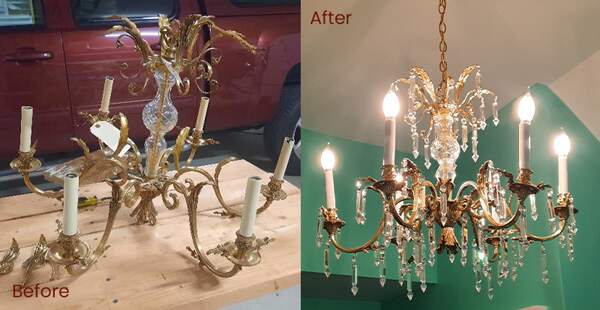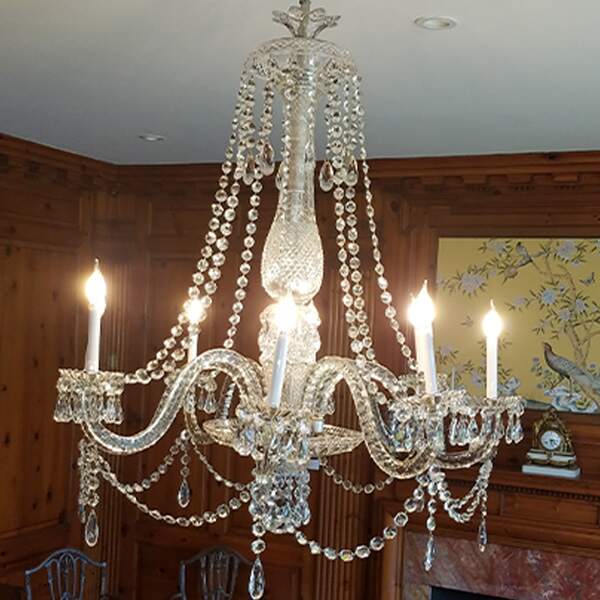 Antique Lamp & Chandelier Restoration Services

We are skilled in repairing just about every component of your antique or damaged chandelier or lamp, from rewiring to the precious metal restoration. We offer the following lighting and chandelier services:
Brass and silver chandelier repair

Chandelier & lamp rewiring with UL parts

Brass & silver polishing, repair, restoration

Candle replacement

Parts replacement: bobeches, crystals, prisms, beads
Would you like to restore an antique lamp or chandelier? Connect with a Restoration Consultant today for more information on our process and how to get started!
How It Works: Lamp & Chandelier Restoration Process

Antique lamps and chandeliers are unique and vary widely in their age, history, base materials, structure, and repair needs. Therefore, the restoration approach must also be unique. There is no one size fits all.
This is why we begin every antique lamp or chandelier restoration with an in-depth, physical evaluation.
To best serve you, our restoration team needs to understand:
Your restoration goals and vision

Age/period/history of the light fixture

Base material, I.e. solid brass or brass plated

Level of disrepair/deterioration

Repair & part replacement needs

Intended use when restored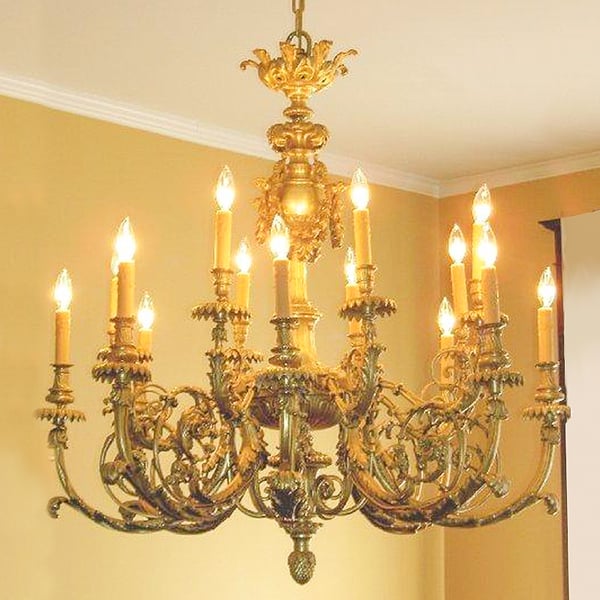 LAMP AND CHANDELIER EVALUATIONS
Based on our evaluation, we will recommend a customized repair or restoration approach and options, that considers the unique construct of your piece and how to best restore or preserve it to its original condition, while maintaining its longevity.
If you'd like to speak with a Restoration Consultant about restoring an antique lamp or chandelier, connect with us today.
If you're sick of looking at the dark and dingy light fixture sitting in your attic or the tired, tarnished focal point of your dining or living room, Mumford Restoration can help.
We'll transform your old or unusable lighting fixtures into polished, working gems that will light up your living space for years to come!
Most Popular
Restore
Disassemble

Remove finish by hand

Treat rust

Make repairs

Remove dents

Order parts

Fabricate parts

Replate

Polish

Add new finish

Reassemble
Refinish
Disassemble

Remove finish by hand

Treat rust

Make repairs

Rewire

Hand polishing

Add a new finish

Reassemble
Preserve
Disassemble

Hand clean

Rewire

Reassemble
Repair
Remove acidity

Hand polishing

Check wiring
Contact us


Would you like to restore an antique light fixture? Connect with us today talk with one of our Restoration Consultants who can help guide you in your restoration options.


Request A QuoteGive Us A CallChat With Us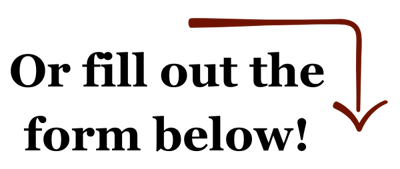 Looking for other services? Check out
Office | Fire & Water Damage