SPECIALTIES > ANTIQUE TRUNK RESTORATION
Antique Trunk
Restoration
At Mumford Restoration, we've been restoring antique steamer and vintage trunks for 40 years. It is a very delicate, intricate restoration. From repairing and polishing each of the metal pieces—to the repair and restoration of every strip of wood and refinishing each piece—then reattaching it all.

Every trunk is someone's memories – it is not just another piece of furniture, so we make sure to take extra care and provide the highest level of craftsmanship to restore it to its original beauty.
With four levels of service to choose from, there is an approach to every restoration need. To visualize what may be possible with your antique trunk, take a look at some of our amazing transformations, here.
Antique Trunk Restoration: Packed With Possibilities!
Trunk restoration is not something that comes to mind very often if ever, but if you just happened to come across your great granddad's old steamer trunk in the attic it may just be the most important thing you do in recapturing some of his treasured memories.
If you're like many of our clients, you found it in a terribly rusted, torn, and very tattered condition. It's hard to imagine that at one time there was a beautiful piece of history under all that paint and rust!
In our 40 years of restoring sentimental pieces, we've not found many things that are beyond our restoration capacity-- to include water damaged, 100+ year old antique trunks!
Our team of third-generation craftsmen have had the privilege of restoring hundreds of antique trunks that time and travels had all but destroyed.
For an idea of what's possible, take a look at some of their most stunning antique trunk restorations here.
Unpacking the History & Mystery of Antique Trunks


For us here at Mumford there are many stories we could tell! There is of course the charm of the trunk itself. But there's also the mystery of it--the past its had and where its journeys led. There are also just so many varieties of antique and steamer trunks. If only these pieces of the past could talk, what might they say...?
One of the things we enjoy so much about antique trunk restoration is that each trunk is different and thus presents a new and exciting challenge. Perhaps one occupied a corner of an ancient castle in Northern Europe or came over on the Mayflower or maybe it traversed the plains of the great Northwest during the gold rush of the late 1800s? Or, who knows...maybe it was buried, filled with some pirate's treasure?
The possibilities are endless, which ultimately leaves us completely enthralled with the "what ifs" of each trunk's past. Trunks quite simply are the ultimate antique with their rich and varied histories.
Check out some of our most stunning antique trunk restorations here to see what's possible for your ultimate antique!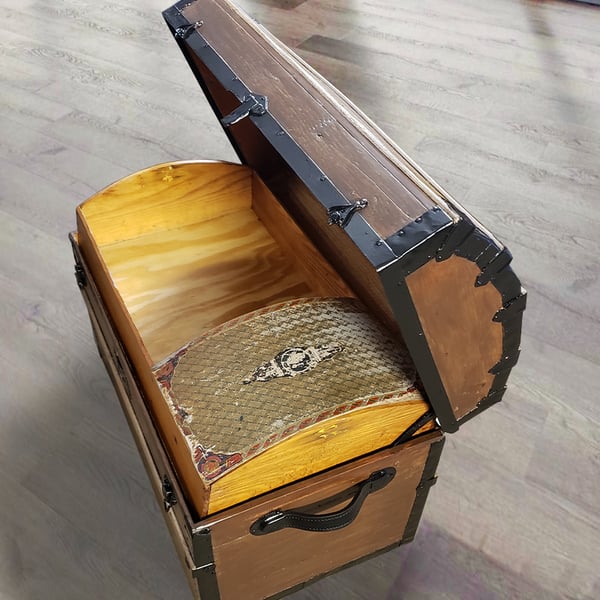 If you have an antique trunk you would like to restore, connect with us today to discuss your goals and what level of service is right for you. If you have pictures, you can submit them below.
Antique Trunk Restoration: How It Works


Antique trunk restoration is one of the more complex and involved restorations that we do here at Mumford Restoration. It involves the expertise of our craftsmen spanning three areas of expertise: Wood Restoration, Metal Restoration, & Upholstery Restoration.
Because every antique or steamer trunk is different in age, style, and disrepair; there is no one size fits all restoration approach.
Thus, we begin every antique trunk restoration with an evaluation from our restoration team. The evaluation is complimentary and includes:
Understanding your goals and vision for the trunk, its age, history, previous repairs or restorations

Evaluation of the condition of the wood, metal, and upholstery & severity of disrepair

A restoration approach tailored to the unique qualities and needs of the trunk and your restoration goals.
Most Popular
Platinum Level
Full Restoration With Upholstery
Our Platinum Level antique trunk restoration involves expertise spanning three separate areas of restoration specialties: Wood, Metal, & Upholstery.
This level will produce best results possible for its aesthetic & structural integrity.
Ideal for: Trunks that are in severe disrepair, require major aesthetic & structural repairs, with interior upholstery.

Disassemble Trunk

Remove All Finish By Hand

Make Major Repairs

Order Parts

Fabricate Parts

Hand Sanding

Hand Staining

Hardware Replaced

Paint, Glaze, or Polish Hardware

Finishing

Refinish Inside to Natural

Reupholster Inside

Reassemble
Gold Level
Full Restoration, Without Upholstery
Our Gold Level antique trunk restoration includes every process in the Platinum Level except reupholstery of its interior. This level will produce the best results possible to ensure the aesthetic & structural integrity and longevity.
Ideal for: Trunks in severe disrepair & its interior doesn't require upholstery.
Disassemble Trunk

Remove All Finish By Hand

Make Major Repairs

Order Parts

Fabricate Parts

Hand Sanding

Hand Staining

Hardware Replaced

Paint, Glaze, or Polish Hardware

Finishing

Refinish Inside to Natural

Reassemble
Silver Level
Refurbish & Renew
Our Silver Level service for antique trunks is strictly refurbishment--not restoration. It addresses structural issues and results in an improved aesthetic but it will not produce Gold or Platinum Level results.
Ideal for: Trunks in good to fair condition not requiring major repairs structurally or aesthetically.
Cleaning

Solvent Wash

Touch-Up Dents

Make Repairs

Match Color

Hardware Cleaned/Painted

Finishing

Refinish Inside to Natural

Reupholster Inside

Reassemble
Bronze Level
Cleaning & Repairs
Our Bronze Level of service is focused exclusively on the basics: cleaning interior/exterior, only necessary repairs, and spot finishing in select areas of greatest need. This level of service is not intended to produce significant visible results. It's primary purpose is to address structural issues & slow its deterioration.
Ideal for: Trunks with minimal damage
Cleaning

Deodorize

Touch-Up

Make Repairs

Spot Finishing
Contact us

If you are lucky enough to be in possession of one of these wonderful pieces and would like to learn more about our antique trunk restoration process, connect with one of our Restoration Consultants to discuss your goals today!


Request An EvaluationGive Us A CallChat With Us

Looking for other services? Check out
Office | Fire & Water Damage