SPECIALTIES > BOOK BINDING, REPAIR, AND RESTORATION
Book Binding, Repair, and Restoration
**Update To Our Book Restoration Services For 2022**
Due to the overwhelming demand for book restoration from clients all over the United States, we are at full capacity with projects and will not be accepting new book restoration projects in 2022. Please check back with us in 2023 to inquire about your book restoration.
Thank you for your understanding.
---
Mumford Restoration provides full book and Bible restoration and repair services. If you have books or a family Bible you love that have torn or creased pages, damaged covers, are ripped to pieces or simply crumbling due to age and neglect, we can help. Even if the pages are dog eared, have been scribbled on with crayon and ink or have water stains we still can help. Whatever the condition your book may be in, our book restoration team has the unique skills to repair damaged leaves, re-sew loose pages, and restore deteriorated bindings.
Because we are one of the few companies in the country still providing book and bible restoration and repair, our team is quite busy. We serve clients all over the United States. We begin every book restoration or repair with an evaluation from our Book Restoration team. Our book evaluations cost $250+tax and we credit 50% of that cost towards the book restoration, should you proceed.
Our restoration specialist will assess every nook and cranny of your book or Bible, determine its approximate or exact age, the materials and chemicals/glues it was constructed with, and provide you with a detailed condition report with their findings, recommendations, and associated costs for restoration. If you'd like your bible or book evaluated, reach out to our Book Restoration Team today.
We have a queue and a fee for book evaluations, of which a portion is deducted from the restoration cost. Depending on the condition of your book and your objectives we will perform a restoration, repair, or combination of the two. Below is how we define the difference between book restoration and book repair.
Book Restoration
Book restoration is the arduous process of taking a book in disrepair and returning it to as close to its original condition as possible. Performing a book restoration ranges from the removal of a regular stain or repair of a torn leaf to a complete rehab of its binding material and cover. This process can include de-alkaline buffering, acidification, re-sizing, re-sewing, rebuilding missing parts, replacing endpapers and/or boards, recovering or restoration of the original covering and restoring in a way that is reflective of the time the book was originally bound for publication.
In short, this process entails most of what constitutes book work which is made up of repairing, mending, rebinding, and reconstruction.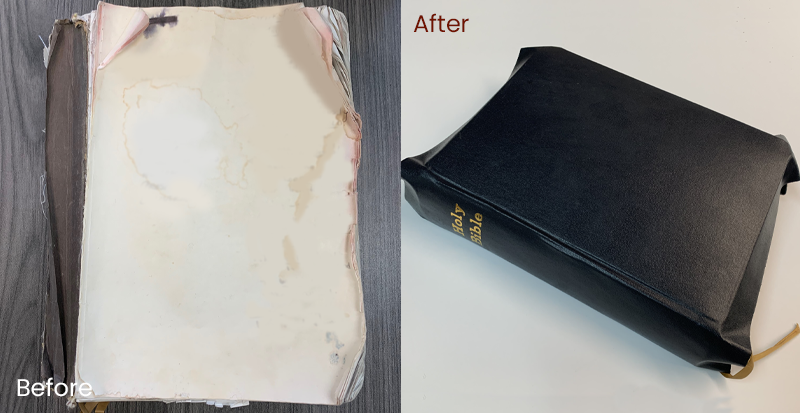 The book repair process is not to be confused with book restoration or conservation. Book repair basically is an improvement that is made to it that deals more with adding back the functionality of the book. It typically is a visible change that is not subtle and if done correctly can look very nice. However, this technique will not necessarily be able to return the look of the book to its original binding.
At Mumford we understand and appreciate how important books can be to someone. We love them as much as anyone. What we love more; however, are the smiles that are generated when we hand someone a beautifully restored book that was formerly worn-out and beat up. Do you have a book or Bible restoration or repair need? Connect with one of our Restoration Consultants today to discuss our process and your options.
Contact us
Connect with one of our Restoration Consultants today to discuss our process and your options.

Looking for other services? Check out
Office | Fire & Water Damage