SERVICES > CUSTOM BESPOKE FURNITURE
In a world filled with mass-produced mediocrity, where furniture is churned out with little thought and even less soul, one service stands out from the rest—Mumford Restoration Custom Bespoke Furniture--a service that embodies the artistry and craftsmanship of a bygone era.
Experts in old-world craftsmanship, we implement sophisticated techniques in joinery, hand-carving, and edging; ensuring that each piece we create is as functional as it is a work of art.
Bring Your Vision To Life! Connect With Us Today.

Have questions about having a custom piece made? Feel free to reach out to us and we will answer any questions you have!
Custom Dining Chair


Our client was in need of a new dining chair to complete a set she already had. The set had been in her family for generations, but along the way the larger 'granddaddy' chair went missing. After ages of not having a complete set, she now has that missing chair!
Our skilled artisans used one of her dining chairs as a guide for the carvings and basic design, but the new chair needed to be wider and have arms. It all started with a sketch and after some time, hard work, and many conversations later, the 'granddaddy' chair is now complete!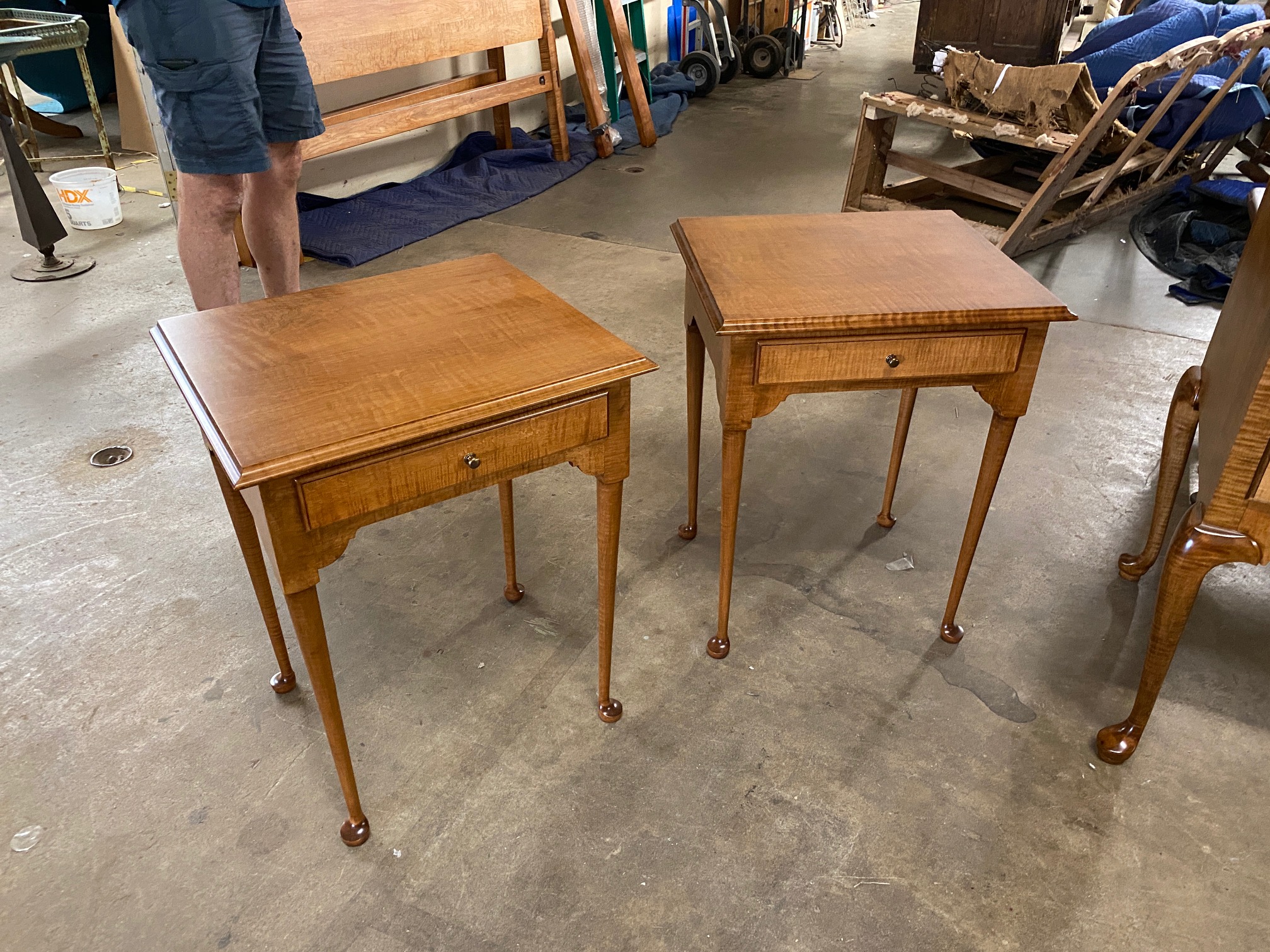 Create
Heirlooms & Bespoke Pieces
Craft a timeless legacy to be cherished by future generations or elevate any collection's beauty by crafting bespoke pieces that seamlessly blend with your existing design.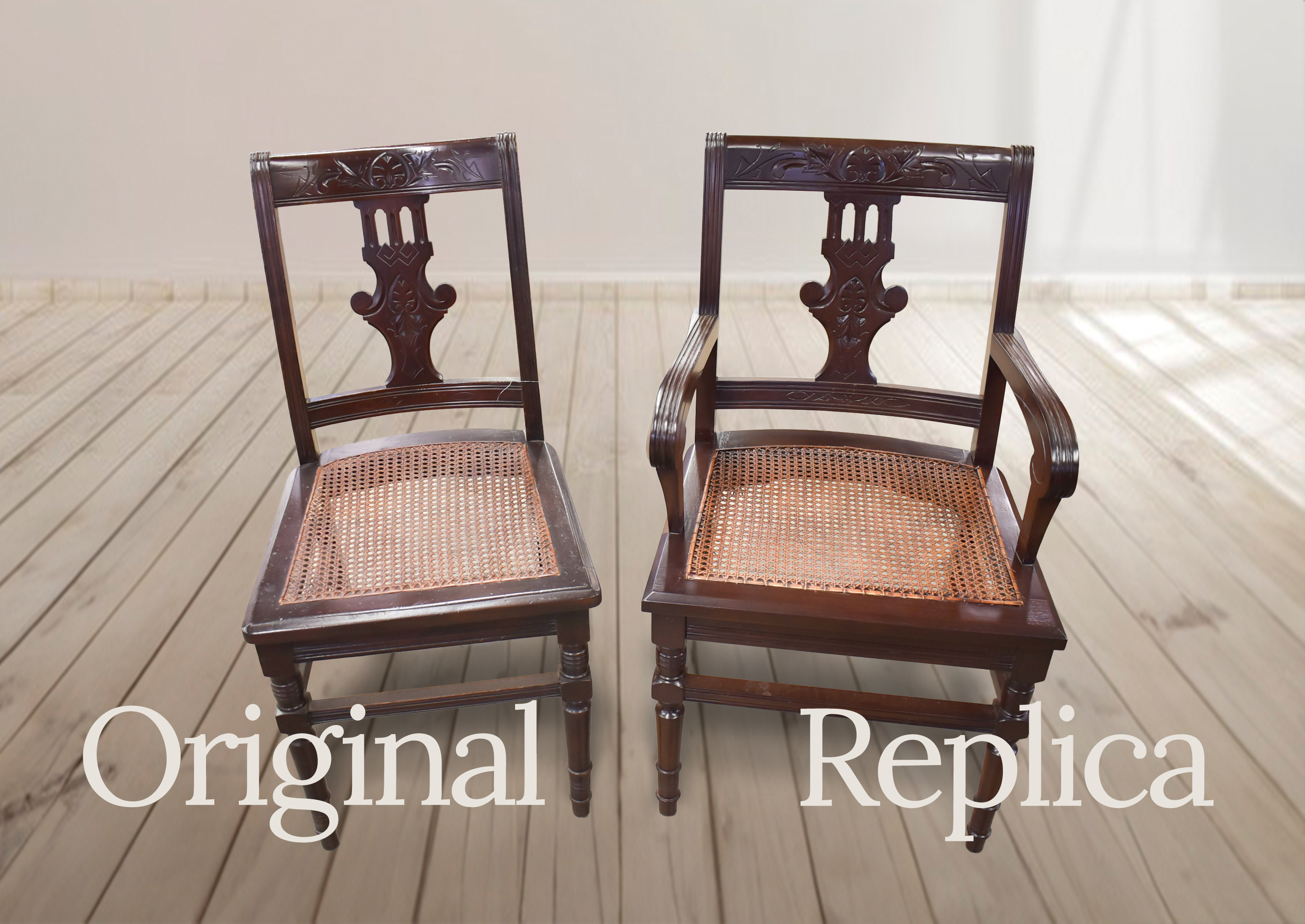 Replicate
Heirlooms & Period Pieces
Replicate any missing or damaged elements of a treasured collection, such as a lost chair from an heirloom dining set, like this customer did. Replicate historic pieces from a specific period.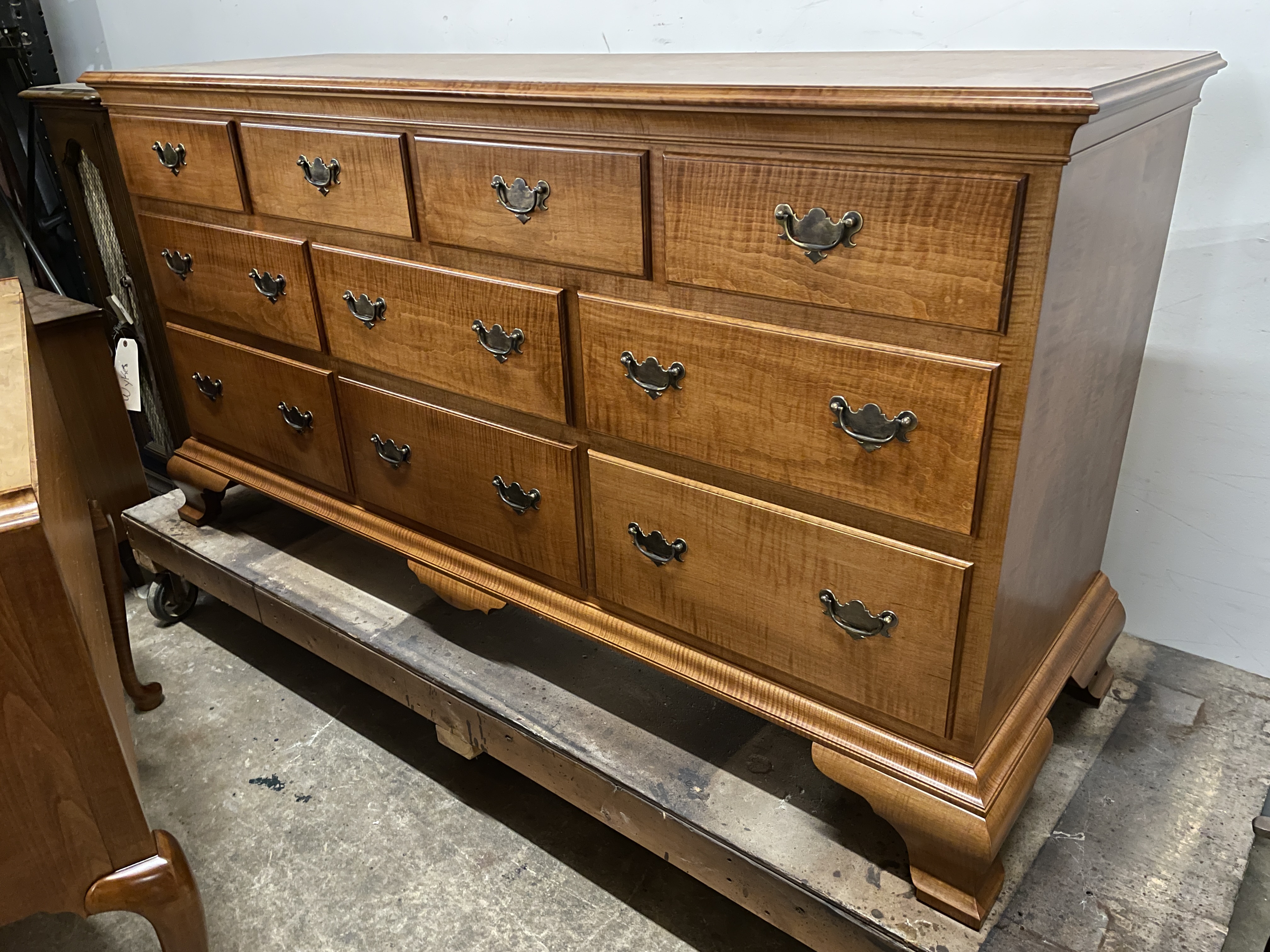 Restore
Heirlooms & Fine Furniture
Whether it's a claw foot, chair leg, arm, or table leaf that's gone missing, our expertise lies in creating replacement parts for your cherished heirlooms and fine furniture. We not only restore their functionality but also ensure they can be cherished by future generations.
Custom build & design your own heirloom (or otherwise) furniture
•Expert Consultation
•Design Mock-ups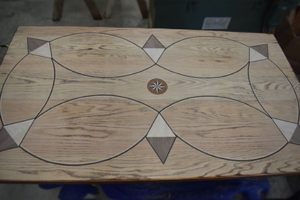 Exact replicas or reproductions
•Period pieces
•Existing pieces that need a match, i.e. matching coffee table or dining chair
•Replacement pieces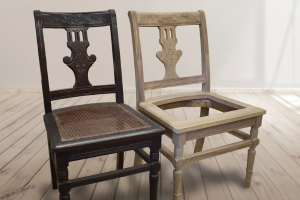 Specializing in authentic, old world joinery & hand-cut carpentry techniques
•Mortise & Tenon
•Tongue & Groove
•Dovetail Joints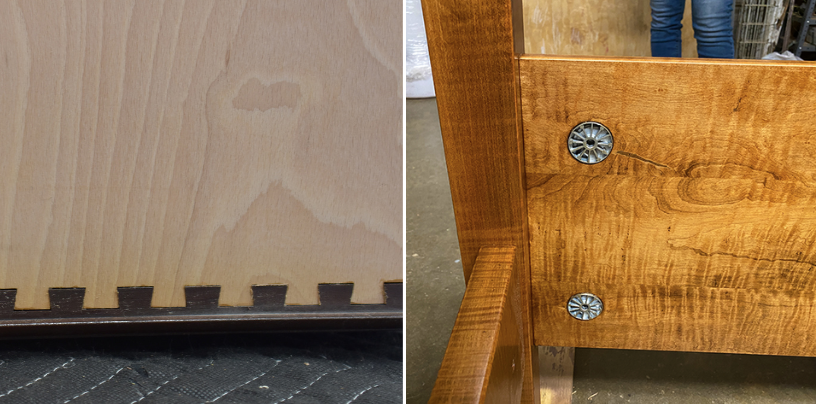 Hand-carved ornate & intricate designs
•Claw foot replicas & creations
•Relief carvings
•Trim & moulding creation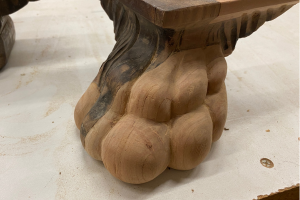 Our custom bespoke furniture service allows us to work with you to create a piece that perfectly fits your space and style.
Whether you're looking for a statement piece or a subtle addition to your existing décor, we can make your vision a reality.
We also offer the ability to match existing furniture sets, creating replacement pieces that are seamlessly integrated into your current design.
Additionally, we can create replicas of historic pieces from specific periods, providing you with a piece of history that is both functional and beautiful.
At our workshop, we offer both virtual and in-person consultation and design services. We take the time to get to know our clients and their specific needs, ensuring that the piece we create is a perfect match for their style and taste.
We use only the highest quality materials, sourcing the best wood from wherever is necessary to achieve the client's goals. Location is not a factor, as we offer our services across the United States.
We also offer a level of personalization that is simply not available with mass-produced furniture. We take the time to get to know our clients and their specific needs, ensuring that the piece we create is a perfect match for their style and taste.
What sets us apart from other furniture makers is our dedication to old-world craftsmanship. Our craftsmen use sophisticated edging techniques and designs to create furniture that is not only beautiful but also built to last.
We believe that furniture should be a work of art that is as functional as it is beautiful. Our furniture is built to last and will become a treasured family heirloom.
We always begin with a thorough consultation. You'll meet with an expert on our design & build team to understand your goals and the vision you'd like to bring to life. We'll discuss your intended purpose/use for your piece, where it will be used/displayed (location/climate/activity), and the look and feel you're trying to achieve, among other things such as wood & other materials used, color/stain, finish, hardware, etc.
Once we've understood your vision, we'll produce a mock-up of your piece, so you can see what it will look like and make any adjustments necessary before we begin the actual build.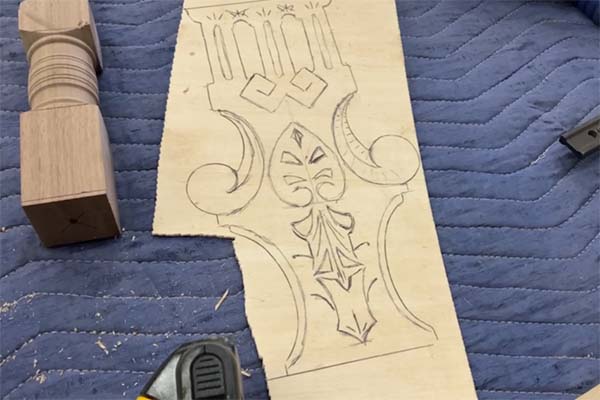 You'll have the opportunity to review your piece(s) during the build process & provide your feedback.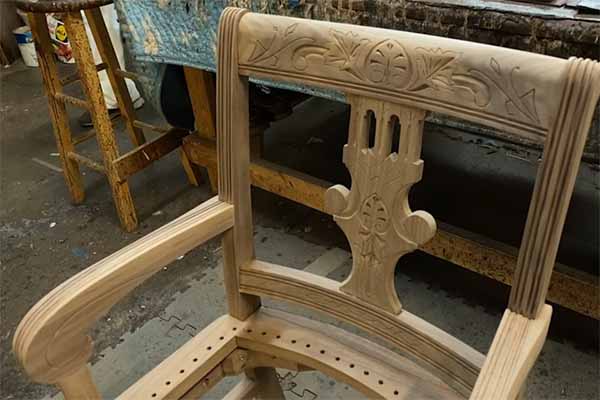 Once complete, we'll schedule a review with you and make any final adjustments necessary.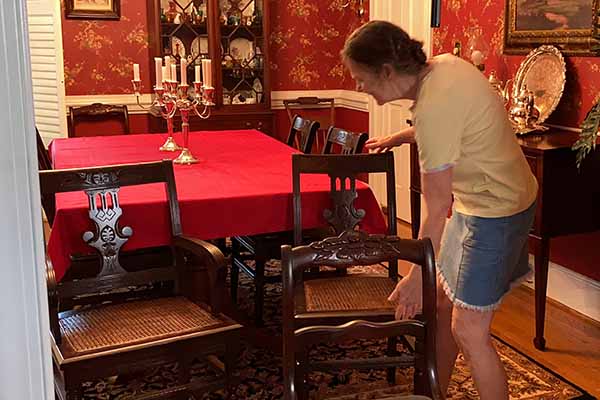 Delivery Of Your Treasure
Your piece will be delivered to your desired location with white-glove service by our seasoned logistics team.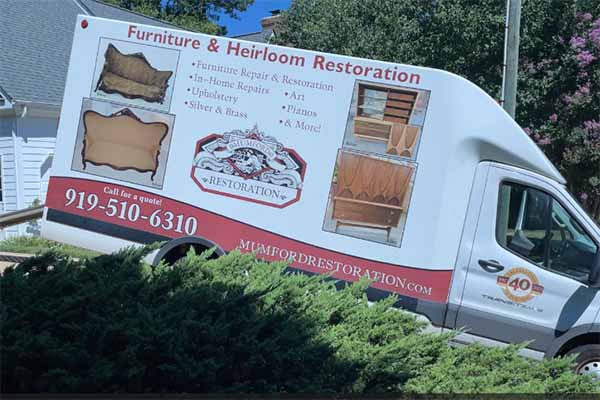 Curly Maple Beds

We worked with our client to create two curly maple beds that would match some pieces a family member made for him previously. The pieces were made using curly maple directly from Pennsylvania, in an early American style. We added an ogee edge to the headboard and used hidden cam locks to join the rails to the headboard and footboard so they could taken apart easily later on.

Both the king and queen size bed have interchangeable parts and we even created a custom made 12 inch rail that can be used when the bed needs to be stored. This will allow them to be stored upright.

Have questions about having a custom piece made? Feel free to reach out to us and we will answer any questions you have!
Design Your Custom Piece Today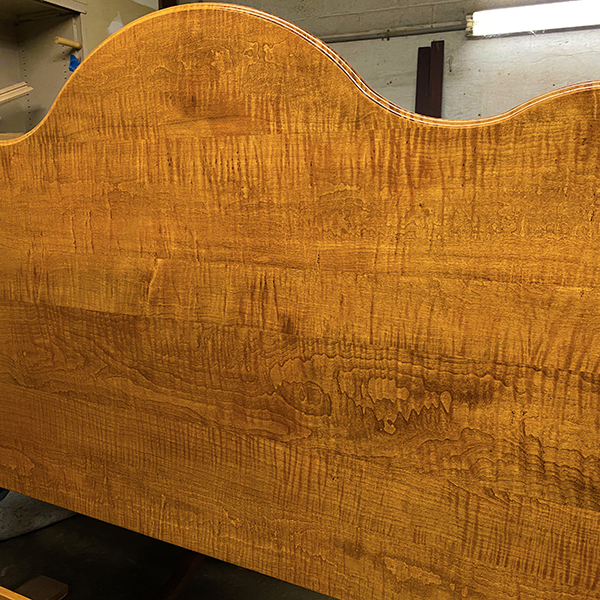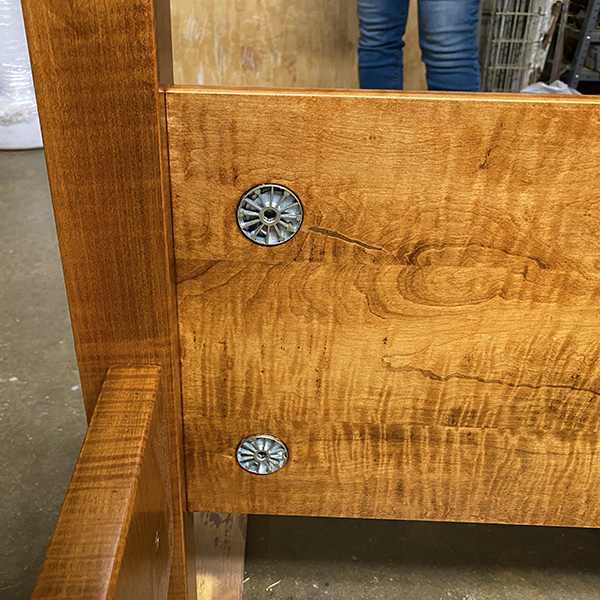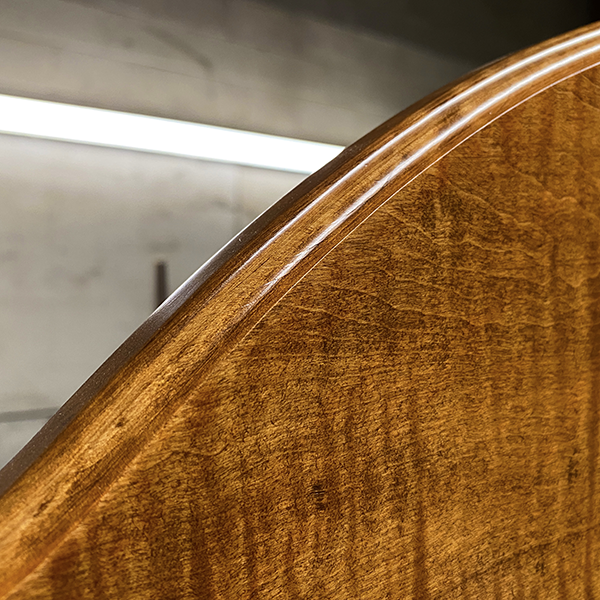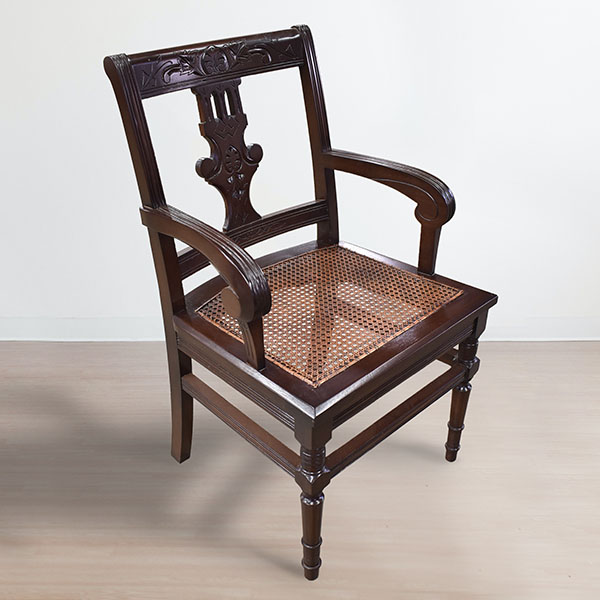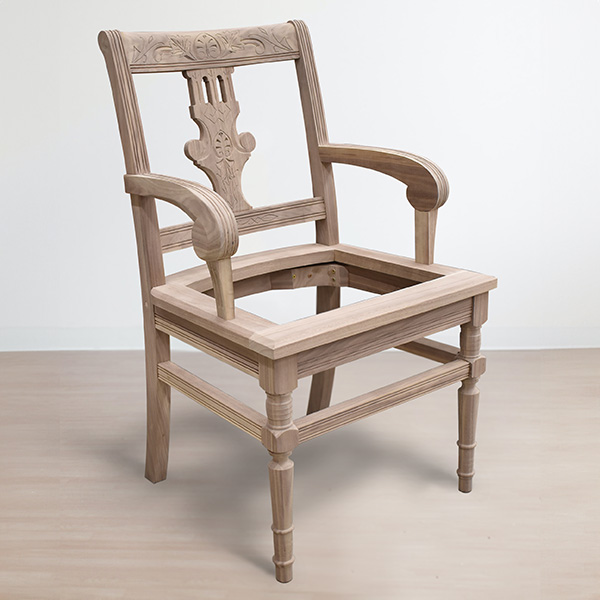 Custom dining chair built to match a set already owned
Our client had a set of carved dining chairs that had been in her family for generations. But they were missing the "captain's" or "granddaddy" chair. This chair needed to be wider and have arms, something that none of the current chairs had. Our artisan started by studying a chair in her set and built the new chair to match. Now her set is complete and she couldn't be happier!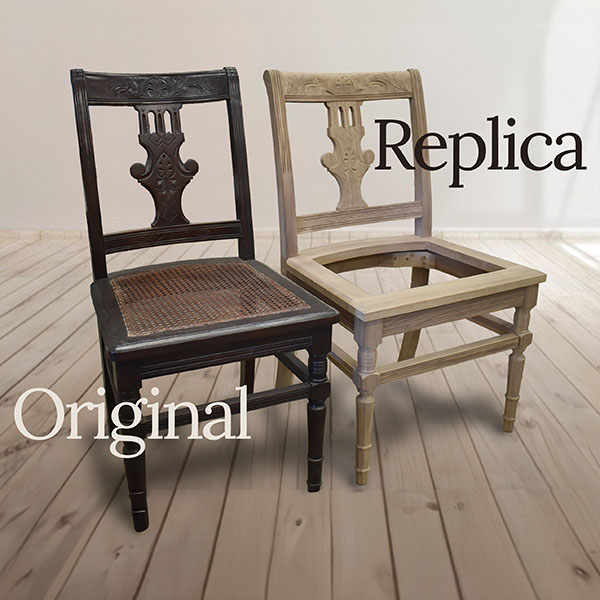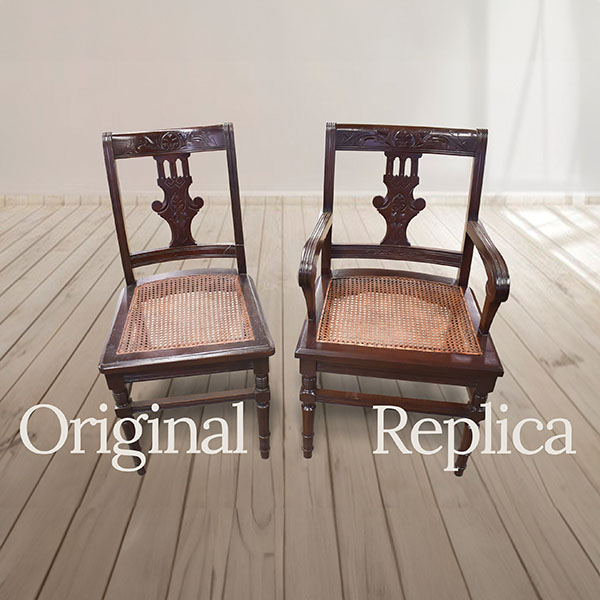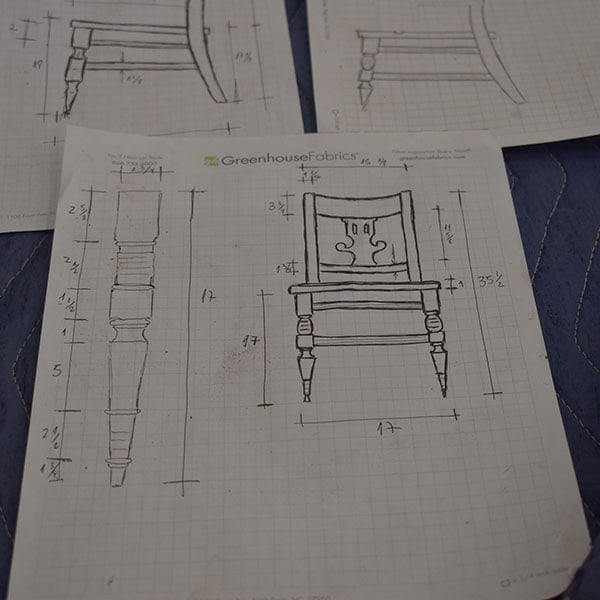 Custom chairs built from original art deco side panels
When we started, we only had the side panels of these chairs. Our amazing artisan was able to create a brand new middle framework and build out the skeleton of the new chair. Afterwards our master upholsterer finished the seat and back with new foam, decking and webbing, and new fabric!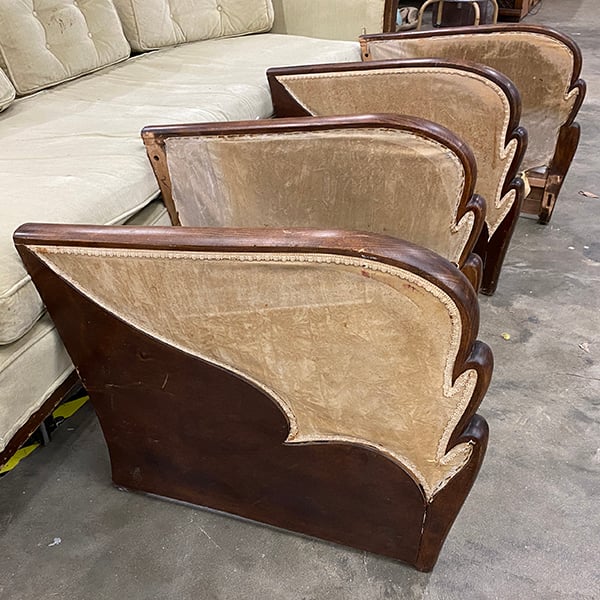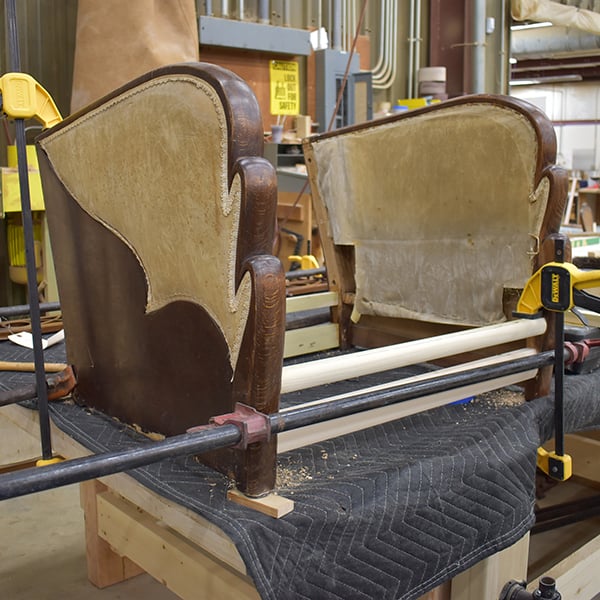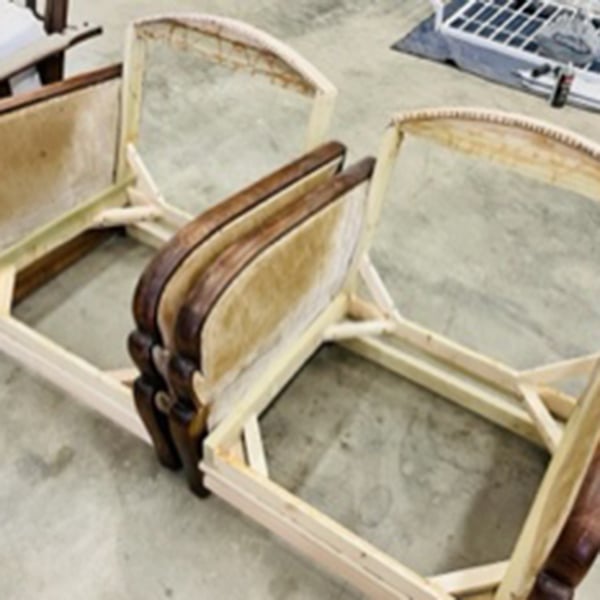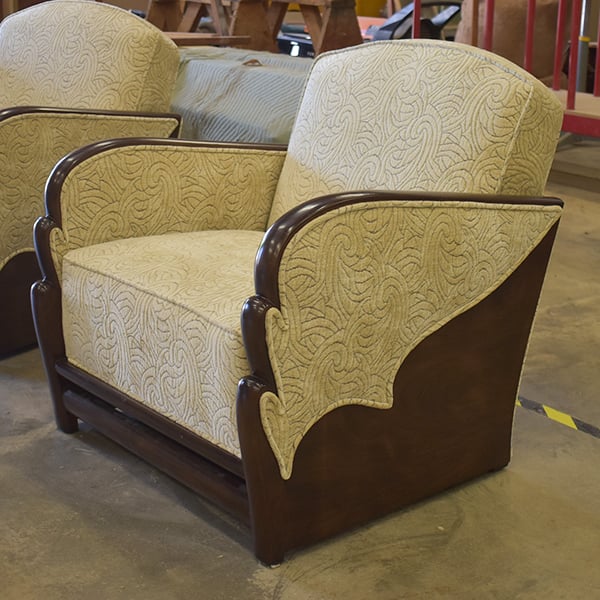 Recreated lion's feet for a buffet
The original piece was damaged in a fire and the feet were badly damaged. Our master woodworker was able to rebuild the marred pieces and hand carve them to match the original shape.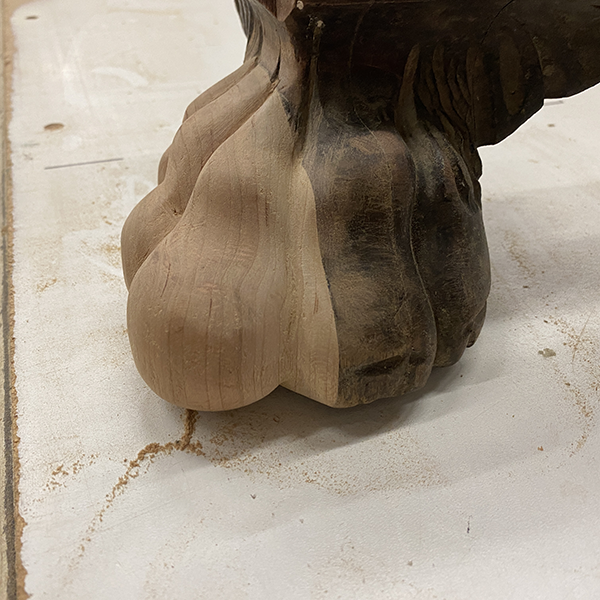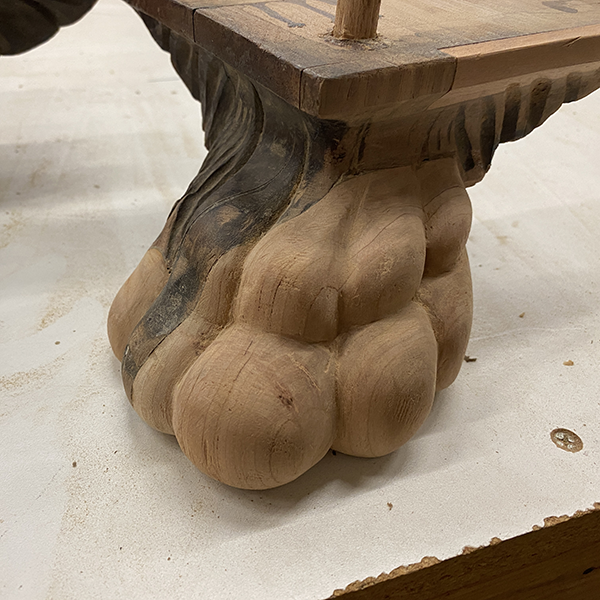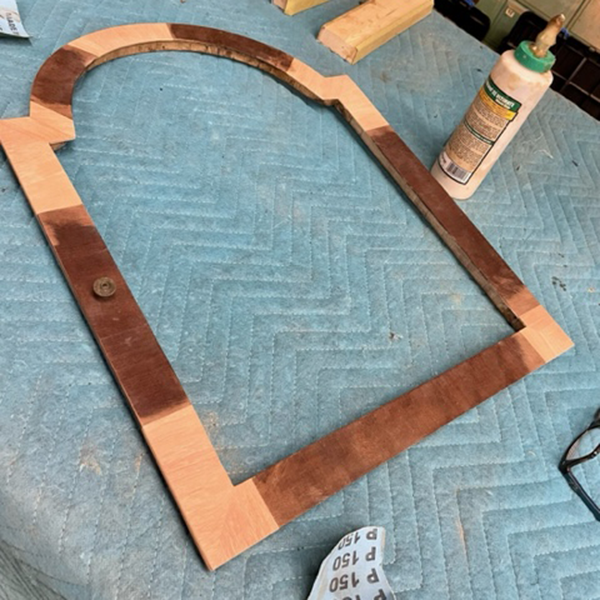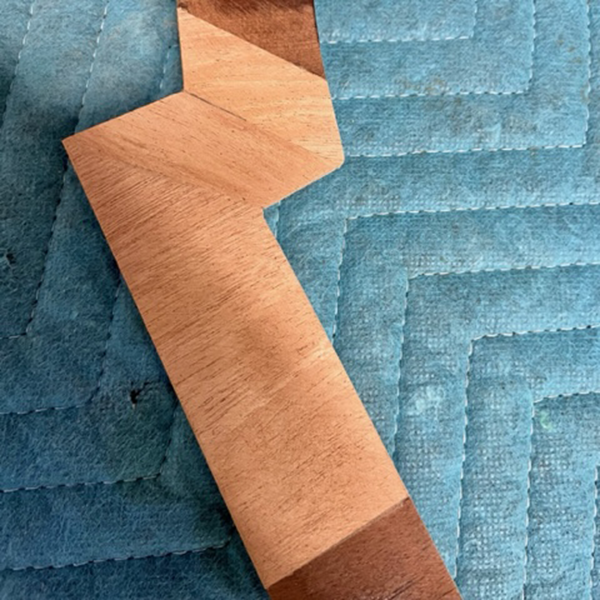 Veneer matching on a clock face door
The door to the clock face on an antique English tall clock had some badly damaged areas the the veneer needed to be replaced. Our woodworker took great care to match the grain and pattern as best as possible so the final piece would look as if no work had been done at all.
Contact us

If you'd like to talk with our Custom Bespoke Furniture team about your custom project, connect with us today to schedule your consultation.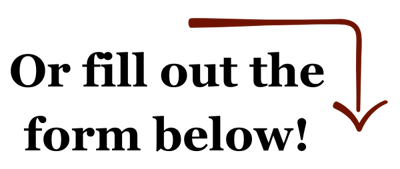 Looking for other services? Check out
Office | Fire & Water Damage