SPECIALTIES > DIGITAL PHOTO RESTORATION
DIGITAL Photo Restoration

Picture Perfect: Restoring Family Memories
There are but a few items that possess the sentimental power of a photograph. Captured moments of our personal history that hold images of those dear and departed cannot be replaced.
At Mumford Restoration, we have developed an extraordinary level of expertise in digital photograph restoration, from photos damaged by fire and water to photos that have faded and aged. As passionate as we are about furniture, digital photograph restoration is a close second.
Until you have felt the sense of loss many of our clients have experienced, believing their entire photo history has been lost to a house fire or a burst water heater–you cannot imagine the joy on their faces when we are able to salvage and restore their family history! Even the old family photo of great-great-grandparents, so faded it can hardly be recognized anymore…bringing that back to life and color has made our clients burst into tears. See some of our digital photograph restorations here.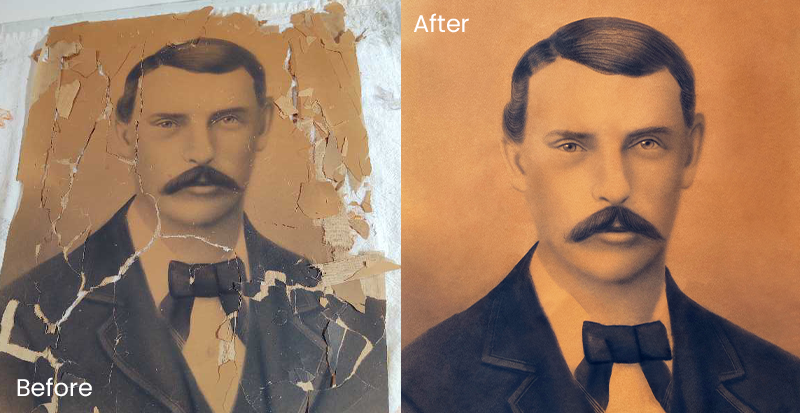 Digital Photo Restoration: How It Works

Our experts cover all aspects of digital photo restoration; removing imperfections, cleaning from mold or mildew, repairing tears and cracks, restoring faded color, removing wear left by tape, glue or ink.
We also have technicians on our team that can enlarge, crop, enhance or convert a photo to shades of black, white, or sepia, by working pixel by pixel digitally or focusing on restoring and preserving the original.
For photos that may have been severely damaged, digital photo restoration offers an opportunity to salvage those priceless memories and preserve them forever!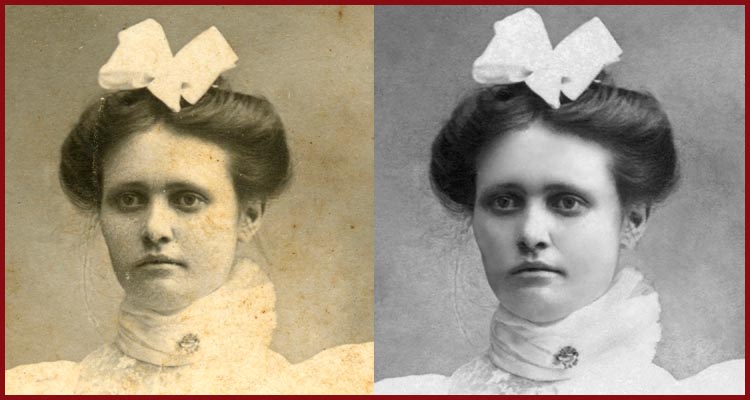 Most Popular
Platinum Level
Disassemble

Clean

Restore original photograph

Digital scan, digital pixel restoration

Provide CD/Flash Drive

Replace frame

New hardware

Reassemble
Gold Level
Disassemble

Clean

Deacidify

Digital Scan

Provide CD/Flash Drive

Restore Original Photograph

New non-acidic backing

Reframe in original frame

New hardware

Reassemble
Silver Level
Disassemble

Clean

Deacidify

Minor touch up of original

Touchup frame

New hardware

Reassemble
Bronze Level
Disassemble

Clean

Reassemble
Contact us

Do you have a photograph(s) that you would like to digitally restore? Connect with one of our Restoration Consultants to restore your family memories!


Request an EvaluationGive Us a CallChat With Us

Looking for other services? Check out
Office | Fire & Water Damage