SPECIALTIES > PIANO REPAIR & RESTORATION
Piano Repair & Restoration
Restoring Your Musical Memories
One of the most rewarding restorations we undertake at Mumford Restoration is heirloom piano restoration for families. Whether you own a Knabe, Steinway, Yamaha, or anything in between, Mumford Restoration can help bring your musical memories back to life! We specialize in restoring both the technical aspects of pianos and their exterior cabinetry.
We restore pianos that range from upright, console, spinet, baby grand, to medium grand and concert grand. With 12,000 parts and 88 keys, there are infinite possibilities for deterioration in your piano's 6 major functions including: the keyboard, hammers, bridge, damper, soundboard, and strings. Each function is interconnected to the others, all housed in wood that was specially selected to protect those functions--to enhance the sound and to serve as an attractive piece of furniture in your home.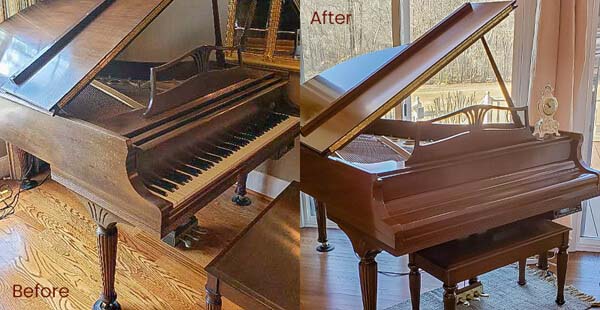 Check out this video of one of our most prized piano restorations—an 1885 Knabe Grand. Our Restoration Team, with over 100 years of combined experience, evaluated every nook and cranny of this historic beauty and developed a comprehensive, period-correct restoration plan to repair the exterior and interior to its original splendor. We can do that for your musical beauty, too!

Connect with us today to speak with a Restoration Consultant about your piano restoration goals, vision, and options.


Why Consider Piano Restoration?
Unfortunately, time marches on and slowly affects one of your most beloved possessions – your piano. With inconsistent care, moving, or poor storage conditions, your piano may reach the point where only professional restoration can bring it back to its original sound and shine. Rest assured however, that no matter how badly your piano may appear to be damaged, Mumford Restoration can help.
Want to see the results of some of the piano restorations we've done? Click the link below.
Piano Restoration: Before & After Images
Unique Construction of Older Pianos Requires Expertise

One of the main reasons to think about having your piano restored is that older pianos were uniquely built and have their own individual appeal and performance. The wood's quality, for instance, is one of the main reasons an older piano may still have value. When your piano was first manufactured, it is very likely the wood was aged twenty-five to fifty years, perhaps more. This aged wood is what helps give it the perfect sound and resonance. When compared to a new piano, the sound quality of an older one, that has been correctly restored, most often will be as good or even better.

Additionally, in the past, most pianos were built almost entirely by hand. The extra craftsmanship and care that went into building a piano is just another reason to think about having yours restored. You will not only be preserving its artisans' legacy but will be reviving its historic charm not to mention bringing its unique musical quality back to life.

Do you have questions about restoring your piano? Connect with a Restoration Consultant to discuss your goals and vision!

Request An Evaluation Give us a call Chat with us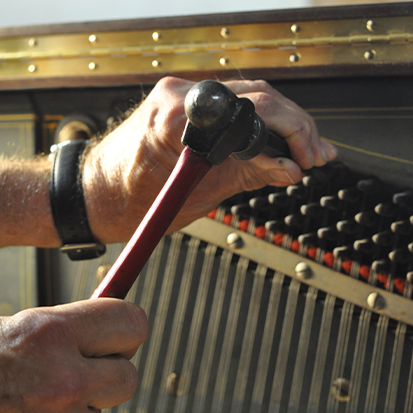 Why Trust Mumford Restoration?
When considering having your piano restored or repaired, remember that our third-generation craftsmen have over 100 years of combined experience-- our quality is unmatched, as is our meticulous attention to detail. All the services we provide are individually tailored to your requests and the specific needs of your piano. Everything we do is done with the goals of the owner and player in mind. We have taken pride in restoring pianos for 40 years.
Do You Need an Evaluation?
Our piano restoration process begins with an evaluation of your piano. We offer two types of evaluations and depending on your goals you may need one or both: Technical evaluation and cabinetry evaluation.
Like any piece of furniture, your piano is subjected to elements, wear and damage that are often invisible. But pluck those keys and your ears tell you immediately that your piano needs a professional assessment.
Your piano may require technical restoration that you didn't expect. It could involve matching new strings with old wires; moving or adding bridges; damper rebuilding or replacement; hammer refurbishing; shanks and flanges that need restoration, soundboard redesign or upgrade or the replacement and/or reworking of any of your piano's 12,000 parts.
Whatever it may need, Mumford Restoration can help you determine the best path forward. We've been restoring musical memories for 40 years--we'll help you restore yours. Connect with us today.
Most Popular
Platinum Level
Deodorize

Disassemble

Major interior cleaning

Remove old finish by hand

Make repairs

Fabricate parts

Hand sanding

Hand staining

Add new finish and color

Polish hardware

Reassemble

Tuning

Technical evaluation additional
Gold Level
Deodorize

Disassemble

Interior cleaning

Remove finish from one area by hand

Solvent wash

Make repairs

Hand sanding

Match to original color

Add new finish

Polish hardware

Reassemble
Silver Level
Deodorize

Disassemble

Interior cleaning

Solvent wash

Touch up dents

Make repairs

Match to original color

Add new finish

Clean hardware

Reassemble
Bronze Level
On-site touch up

Interior cleaning

Make minor repairs

Cleaning of case

Touch up wood

Match to original color and sheen

Spot finishing
Contact us

If you're unsure what you may need, we can provide a comprehensive evaluation of both the functional components and the cabinetry and customize a restoration plan that fits your vision and your budget.
Connect with us today to speak with a Restoration Consultant about your piano restoration.


Request an EvaluationGive Us a CallChat With Us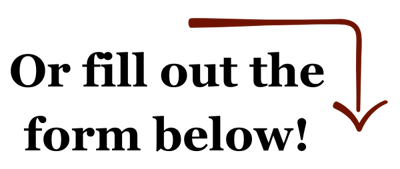 Looking for other services? Check out
Office | Fire & Water Damage