ABOUT > FURNITURE RESTORATION—THE MUMFORD WAY
Furniture Restoration—
The Mumford Way
At Mumford Restoration, our highest priority is providing authentic wood restoration—producing results that stand the test of time and protect the longevity of your piece. As such, we do not take shortcuts, as is often the case with what we refer to as, "refinishers". We are professional restorers that refinish wood as a part of the holistic restoration process.
What's the difference between refinishing and restoring?
Merriam-Webster defines a refinisher as: noun. "Someone who refinishes wood". As a verb, it means, "To give a new surface", thus a surface level approach, not holistic—there is no depth and breadth.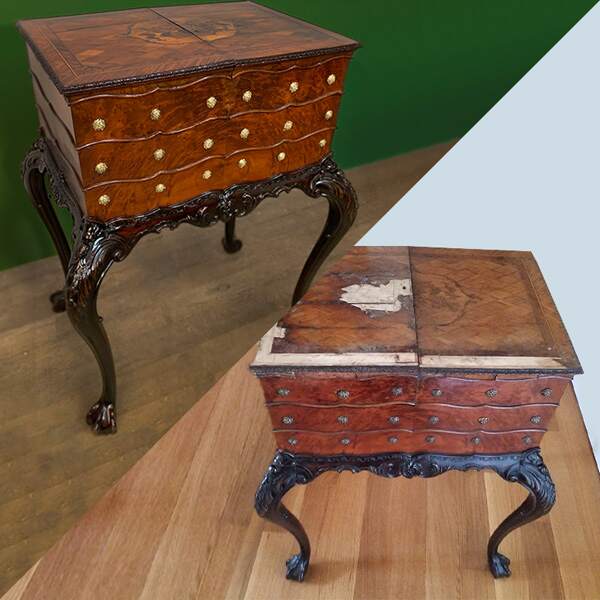 The definition of restorer is: "To bring back to or put back to a former or original state". Do you see the difference? We are experts at bringing furniture back to its original state, which may involve research, repair, fabrication, determining original finish, original hardware, sheen and stain color.
That is an important distinction when you are trusting anyone with your sentimental treasures. Know what you're getting and don't be afraid to ask about the process. It's what separates the wheat from the chaff.
Mumford Restoration is in a class all by itself—with quality craftsmanship, products, and period-correct restoration at the helm of every piece we are entrusted with, you can rest assured that your
family heirlooms will be restored to their original glory to last for generations to come!
Would you like to restore your furniture or family heirlooms? Connect with one of our Restoration Consultants and request a quote, or call us at 919.510.6310.
All "Restoration" Companies Aren't C

reated Equally--


The Mumford Difference
After four decades, we've found a common misconception that consumers have about companies that proclaim to do "restoration". You too, may have it. "What is it?", you're probably wondering. It's that all "restoration" companies are created equally. The truth is, they aren't.
This misconception couldn't be further from reality. The average person just isn't aware of the significant quality, craftsmanship, and educational variances that exist across "restoration" companies. It is vast and wide—and the depth and breadth of any "restoration" company's knowledge of wood restoration is critical to preserving the longevity of your family heirloom without causing irreversible, permanent damage.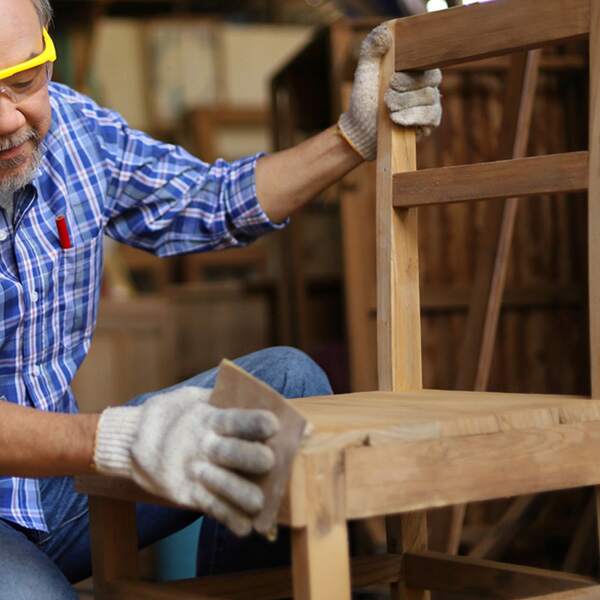 Know the Difference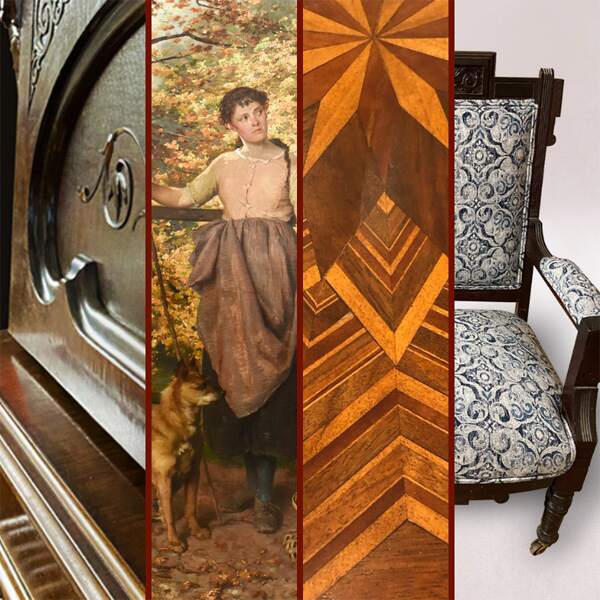 Did you know there are entire wood restoration businesses in every local area built on misleading claims and short-cuts? Beware, because they don't want you to know their secrets. Their processes have never been questioned or challenged because they're counting on the average consumer to know nothing. Well, we're here to change that and raise the standard across the board. In fact, we're working to create restoration standards for all restorers nationwide.
The assumption that refinishers are the same as restorers is very dangerous--especially if the furniture you are entrusting a company to "restore" is an irreplaceable family heirloom or high-quality piece.
The fact is, restoration practices differ largely across companies based on their experience and knowledge; therefore, so do outcomes and results. When choosing a company to restore a beloved family heirloom, it is imperative that you understand who you're dealing with and how they work. Taking shortcuts in the restoration process can ruin your family piece.
See how Mumford Restoration is different!
Anyone that claims to do "woodwork", can properly "restore" your grandmother's beloved dining table, right? Anyone can identify and accurately restore a piece of 18th century furniture, can't they? It isn't rocket science, is it? While it isn't "rocket science", it is "wood science" and there is absolutely a science behind the authentic restoration of wood. As a consumer, you need to know the difference, so you know what you're getting and can make an educated decision.
There's a dirty little secret in our industry called dip-stripping. Why is it a dirty little secret? We'll let you in on it. It's an all-too-common short-cut used by many refinishers to skimp on quality and process—whereby a piece of wood is immersed and soaked in a chemical-based solution to remove finish and stain or paint.
While this does reduce the time and effort of the refinisher by about 60%, it is a self-serving practice that also compromises the life and integrity of your family heirloom. Low-quality practices equal low-quality results. Dip-stripping is NOT a best practice in wood restoration, and we do not do it nor do we recommend it.
Here's what other experts have to say about dip-stripping.
To a layman, it may not be obvious at first glance but over time dip-stripping causes irreversible damage to the wood. Immediately, the wood grain will begin to raise. Initially, after it's been
dip-stripped and refinished, it will swell because of the moisture from the vat of chemical it was dipped in, but when that dries out, the wood pieces will begin to separate at the joints, it will split and crack causing its integrity and strength to be significantly compromised—reducing its lifespan and luster.
If it's a piece of furniture you don't care about and don't want to keep around but a few years, this is probably ok. But if it's a piece of furniture that is sentimental or high-quality and you want to pass it down for generations to come—then know what you're getting. Remember, all restorers are NOT created equally.
Our team takes pride in removing finishes by hand in the old classic style of applying a solvent to a surface, allowing the finish to loosen and scraping if off by hand. This process allows the wood to keep it's patina, prevents raising the grain and allows original results to be restored.
Dipstripping: It Strips More Than Paint--The Ugly Truth
So what's the difference? Why do some restorers utilize dip stripping and some don't? After 40 years in business, it's become a mission of ours to hand strip each piece that needs it.
For us, it's about the longevity and quality of the result as well as a respect for those precious antique pieces we see so often. And while dip stripping definitely has a place in the restoration world, we are big believers that older antique pieces need a more step by step method to removing those stains and finishes.
Contact us

You can choose one of the three suitable ways to contact us.


Request a QuoteGive Us a CallChat With Us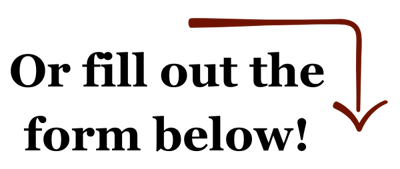 Looking for other services? Check out
Office | Fire & Water Damage