SPECIALTIES > CANING, RUSHING, AND WICKER REPAIR & RESTORATION
Caning, Rushing, and Wicker Repair & Restoration
Once upon a time, long, long ago, there were beautiful chairs made of gorgeous, smooth curved wood with seats and backs that were painstakingly woven from reeds in intricate patterns. Chair caning & rushing was once a very common way to fabricate chairs. Today, rush-woven and cane furniture seems more of a throwback to an era of furniture design long forgotten, than a common, 21st century technique.
Indeed, the art of weaving rushes, reeds, and rattan bark is rare--this makes the practice of repair and restoration of damaged cane and rush-woven furniture even more specialized. Mumford Restoration has been restoring woven furniture for 40 years. With Four Levels of Service to meet any needs, you can trust us to restore yours, too!
As you evaluate your damaged cane or rush-woven piece(s), remember that materials used in repair and restoration must be carefully chosen and matched to give your piece its original look. The process of evaluation of the repair requires the keen eyes of our team of seasoned pros at Mumford Restoration. Do you have a caned or rushed piece that you would like to have evaluated for repairs or restoration? Connect with one of our Restoration Specialists now.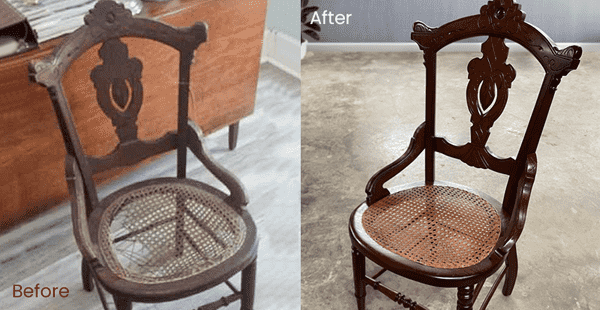 What If The Wood Is In Disrepair?

Rocking chairs, dining and kitchen chairs or lovely little side chairs you may remember from your grandmother's living room, were crafted from caning and rushing. We are often asked to repair hand-woven chair seats that someone's knee went through, or the wood is damaged to the point where they can no longer be used and require a full restoration.
We refer to this as Platinum Level restoration--it includes the replacement of the material used and a full restoration of the wood. You can learn more about our antique furniture restoration services here.

What is Caning?

"Caning" is a bit of a misnomer because it is not actually the part of the material used in furniture crafting and repair. The bark of the rattan tree native to Asia and Africa is used to create what is commonly known as "caning" or the 'cane' used in furniture design and manufacturing. Caning grew in popularity in Europe in the 1600s because of its durability and ability to be woven into intricate patterns for seats and chairbacks.
Types of Caning
There are several types of caning: hand caning, sheet caning, blind caning, and double-blind caning.
Hand caning is a very intricate and time intensive process. As indicated, it is done completely by hand whereby each individual strand is woven into small holes drilled around the perimeter of the seat. It can take anywhere from 8-20 hours depending on the size of the seat. This is the original method of caning and its use dates back to the early Egyptian era. More often than not, this is the type of caning our clients request. While we can replace a formerly hand-caned chair with sheet-caning (see below), hand caning is the period-correct restoration technique that is recommended for pieces that were originally hand-caned.
Sheet caning is what the name implies—rather than weaving each strand by hand, the sheet caning is pre-woven into sheets that are measured and cut according to the size of the seat or back of a chair. It is pressed into what were the original hand-caned holes, which have been bored out to create a trench-like border that the caning fits into. A strip of caning is then placed around the border to secure the cane to the chair and provide a smooth, finished look.
Even more time consuming and labor intensive than hand caning, is blind caning. Imagine hand caning—same idea, holes are drilled around the perimeter of the seat and/or back, however in blind-caning, the holes are not drilled all the way through the wood, just part of the way. Each caning strand is measured and cut with extreme precision and then meticulously inserted into the holes with pegs and glue. Blind and double-blind caning were used to hide the holes and prevent having to drill holes completely through the wood. Double-blind caning is the same process, but it involves the back of the seat/chair in addition to the front—so the same work, doubled. This is also referred to as French-caning. It isn't as popular as sheet or hand caning services and is often reserved for historic furniture or museum type restorations.
Antique natural wicker furniture, as opposed to modern resin (plastic) wicker furniture, is generally worth restoring and can be a beautiful addition to your sunroom or covered patio.
We often see wicker pieces come in that need a total overhaul, from repairing and reweaving the strands of wicker, to repainting and upholstery of the cushions, we can do it all.
Wicker should never be directly exposed to the elements because due to the thin and fragile nature of the individual wicker strands (which, when woven together by the thousands become very strong in a weight-bearing sense) they can rot easily and unlike thick wood furniture, they cannot be sanded, shaped or otherwise filled in - instead each strand, if broken, must be removed and rewoven with a new strand.
To avoid damaging the wicker, we can't apply chemical stripper or sand off the old paint, so instead we use a soft wire brush to clean off any loose or flaking paint, and then thoroughly clean the whole piece before applying primer and outdoor-grade paint.

Learn more about our full wicker repair and restoration services here.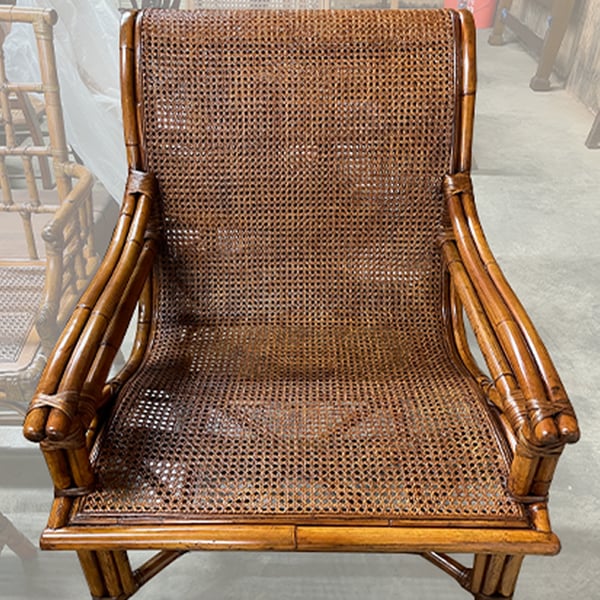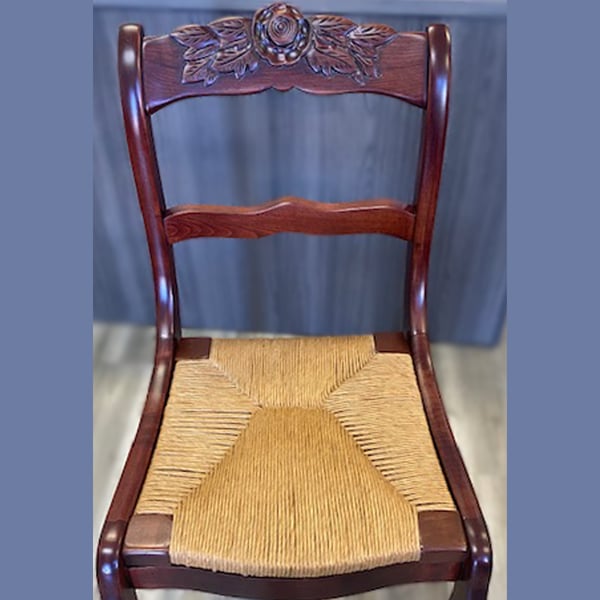 What is Rushing?


First, let's define "rush" or "rushing." Rush is a primarily recognized as a noun that refers to the pithy stems of grassy wetland plants including bulrush and cattail rush. This stem is used to make baskets, mats, chair seats and backs. Reeds that grow in wetlands are also common rush materials. That act of weaving these materials into a pattern in a chair, settee or sofa is known as "rushing." Of the most renowned furniture makers, Thomas Chippendale used decorative rush-weaving in his designs in the late 1700s.

As with cane furniture, we've been restoring rush furniture for 40 years. If you have rush furniture that you'd like to restore. Connect with a Restoration Consultant today.


Woven Furniture Restoration Services: Caning, Rushing, Cording, Wicker, Reed Splint
As you evaluate your damaged cane or rush-woven piece(s), remember that materials used in repair and restoration must be carefully chosen and matched to give your piece its original look. The process of evaluation of the repair requires the keen eyes of our team of seasoned pros at Mumford Restoration. Our services include:
Hand & Blind Caning

Rush—Cattail & Fiber Rush Restoration

Danish Cording

Ash, Oak, Hickory, Rattan Reed Splints or Paper Splint

Wicker Restoration & Repair
Can hand-woven furniture be restored?

At first, it was surprising how frequently this question came up, considering all the other work that we do. Caning, rushing, and woven seating are so far from our modern-day methods of furniture construction that when we would receive these inquiries, people said they couldn't imagine who would be able to perform such work.
The good news is that yes, caning, rushing and woven seating can be restored, repaired, or replaced. We have found through our 40 years in the business that there are still a handful of talented people that possess the skill, love, and patience for this type of work. We are lucky enough to have them on the Mumford Restoration team.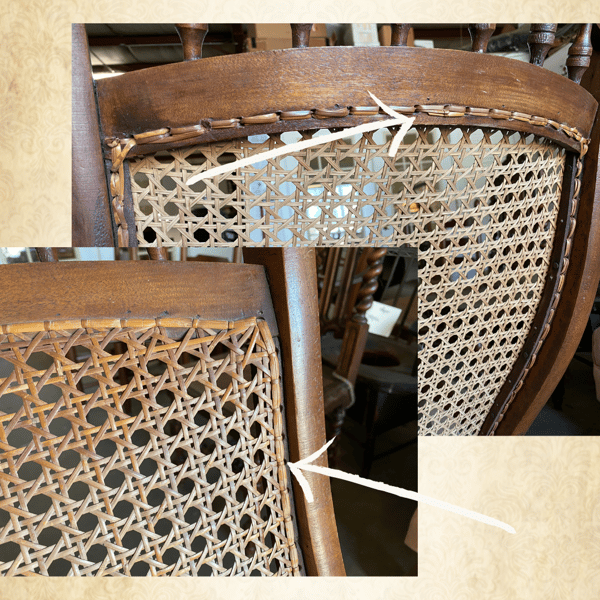 Contact us


Do you have hand-woven furniture you'd like to restore? Connect with us today to speak to a Restoration Consultant.
Request an EvaluationGive Us a CallChat With Us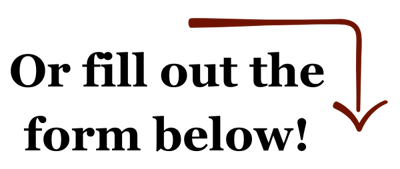 Looking for other services? Check out
Office | Fire & Water Damage