SPECIALTIES > OUTDOOR FURNITURE REPAIR & RESTORATION
OUTDOOR FURNITURE REPAIR & RESTORATION
Restore Your Outdoor Furniture: The Centerpiece of Your Garden Space
The condition of your outdoor furniture can create an inviting ambiance or be the eyesore of your outdoor space. Rusty metal furniture with paint flaking, sun-damaged wood, wicker furniture with gaping holes, and tattered upholstery are some of the reasons our clients restore their outdoor furniture.

Mumford Restoration can restore it to its original beauty, adding years to the life of your treasured pieces. You can customize everything--from paint/stain colors and sheen to the fabric covering your cushions and pillows.
Elevate your outdoor space--your way.
We refinish, repair, and restore any type of outdoor furniture including: Wrought Iron, Metal, Aluminum, Wicker, Teak
Antique Gliders, Patio Tables, Chairs, Benches, Strapping, Slings, Upholstery, & More!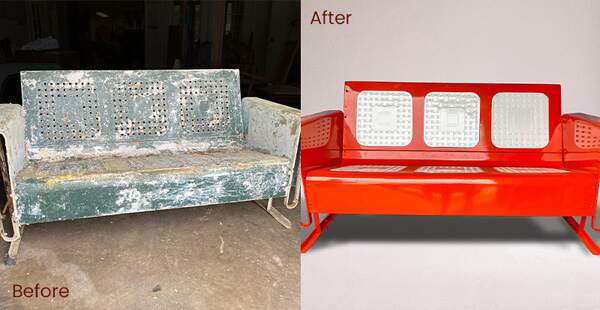 We offer a wide array of outdoor furniture restoration services, they include:


An Important Question to Ask:
Is It Worth Restoring?
First, you must identify its quality. One easy way to tell the difference is knowing where it was purchased. As disappointed as some of our clients have been to find this out, we must tell you that if you purchased outdoor furniture from Lowe's, Home Depot, Target, Walmart, or any other big box retailer, then the furniture was likely made overseas with cheap materials that aren't made to last (like they used to be) and it isn't worth restoring. Here's your permission to go shopping!
However, if you purchased it from a high-quality retailer that specializes in solid wood, cast iron, and/or real wicker, the odds are high that the restoration cost will be less than the replacement cost. The age of furniture is also generally indicative of quality—the older, the better. Much of the sentimental outdoor furniture we restore is made with that old-time quality that is hard to find anymore. If your outdoor furniture was purchased in the last 20 years or so, it has a higher probability of being of lesser quality. If you aren't sure, we can help you!
For your reference, here are some retailers that carry high-quality outdoor furniture:
Patio Pros

Summer Classics

The Fire House
Some high-quality outdoor brands are:
Brown & Jordan

Tropitone

Harmonia Living
Restoration vs Replacement Cost: What To Know

A good way to get informed about your replacement cost versus your restoration cost is to compare the outdoor furniture you're considering—quality and price— against what you have, what you want, and the cost to restore. This will ensure you have made an informed decision.
If at this point you've decided your furniture is high-quality but looking worse for wear, do not throw it away, only to spend more money on a new patio set that might well be of lesser quality—the older the outdoor furniture is, the better quality it is. Invest in it.
When Mumford Restoration restores your outdoor furniture, it will look brand new again and last for many years to come! Generally, it costs less to restore your high-quality outdoor furniture than to replace it with similar quality, brand new.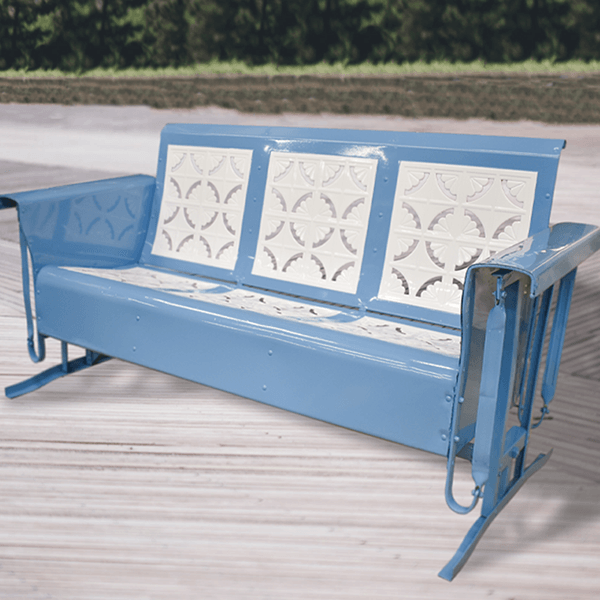 REFINISHING Wrought Iron & Metal Outdoor Furniture

Refinishing your outdoor wrought iron or metal patio furniture with Mumford Restoration gives you choices--from colors, sheens, and textures to fabrics and cushion design! With all this power of choice you can customize your outdoor patio furniture to harmonize with any outdoor or garden space!
Obviously, there are very different approaches to outdoor furniture restoration depending on the material we're working with. For example, for metal or wrought iron furniture, we powder coat it versus using an enamel or latex spray paint. Powder coat is applied liberally to the furniture as a powder (hence the name!) and the entire piece is baked in a kiln which melts down the powder particles into a solid, rubber-like seal that is far thicker and more durable than paint, alone.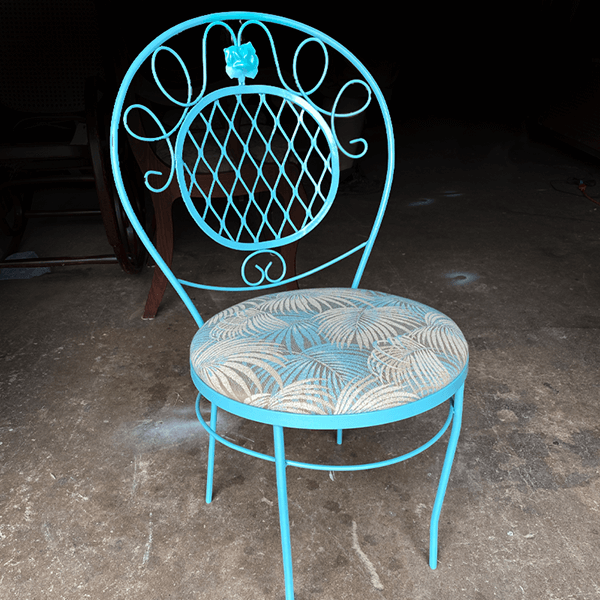 You can choose from a wide array of colors for powder coating. Powder coating finishes are generally more durable than old fashioned liquid paint and will last longer in the sunlight and weather, although like any finish they will last longer when not exposed directly to rain and sun - for example, being on a covered porch is far better than out in the yard.
Powder coated finishes are very resistant to: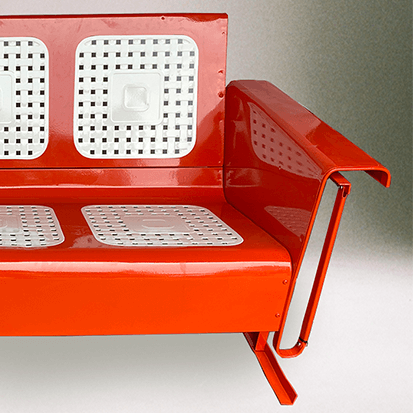 Teak wood naturally has oils in it that make it highly resistant to rotting, making it ideal for outdoor furniture construction. Over time and exposure to the outdoors, however, the wood can become gray or 'weathered' as the outside layer of wood deteriorates and the weather resistant oils dry out.
The best way to maintain not only the beautiful look of teak wood, but also its ability to withstand rotting is to sand it down to where the wood is 'healthy' (that is, vibrant in color which means the natural oils are present) and then coat it in Teak Oil finish as an extra layer of protection.
Teak oil is not the same as the natural oils in the wood, but it is a finish designed specifically for teak furniture. Each manufacturer has its own specific mixture, but it is generally based in Linseed Oil with some other resins and chemicals mixed in.
The key to keeping your teak furniture looking sharp is yearly maintenance - if it has been sanded down to the healthy wood and coated in teak oil, the next year should be a matter of a light 'scuff' sanding (to level out any wear in the oil finish) and a reapplication of teak oil. As always, the less the wood is exposed to the elements, the less intensive and frequent the maintenance will be.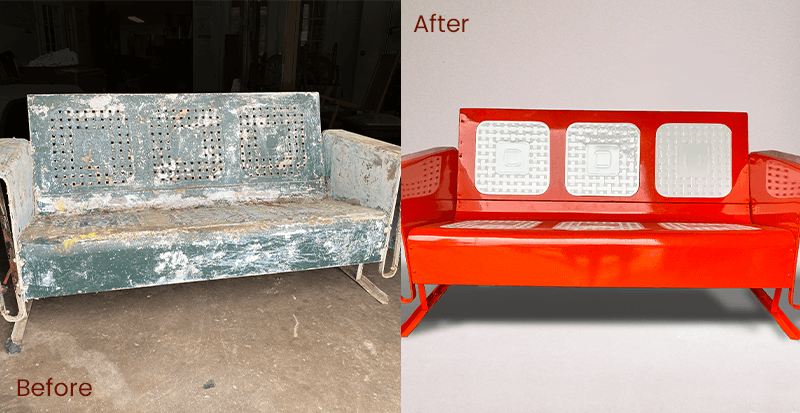 Our teak outdoor furniture restoration services include:


Teak wood restoration & refinishing


Teak wood repairs


Teak oil application


Yearly teak maintenance; light sanding & oil application
Patio Furniture Repairs
When it comes to restoring your beloved outdoor furniture, you have so many options! We offer:
Custom strapping replacement
Custom sling replacement
High-quality materials to match your décor & design preferences.
Repair broken arms, legs, or other areas of the frame

We offer the highest quality materials--choose slings or straps that match your décor and design preferences from your favorite styles and colors! We also provide chair glides designed to keep the metal ends from scratching your deck or patio.

Do you have patio furniture that needs repairs or restoration? Connect with us today to talk with one of our Restoration Consultant about your pieces!
Patio Furniture Repairs -
Strapping and Sling Replacement

When it comes to restoring your beloved outdoor furniture, you have so many options. We offer high-quality, custom strapping replacement. Choose from your favorite styles and colors. We also offer sling replacement—and just like our strapping replacement, you can choose slings that match your décor and design preferences. We also provide chair glides designed to keep the metal ends from scratching your deck or patio.
Broken arms, legs or other areas of the frame is one area of patio furniture repair we get a lot of requests for, which if the metal is quality steel we can generally repair by welding.
Need fabrics for your outdoor furniture? We've gotcha covered! We are proud to offer upholstery services as a part of our outdoor furniture restoration.

With thousands of fabric samples to peruse, you are sure to find a fabric that matches your taste and design preferences. What's more, because we carry fabrics that are exclusive to designers, you won't find your new fabric on your friend or neighbor's outdoor furniture!

We also offer complimentary fabric consultations for our clients, if you need a little help putting it all together!
Our upholstery services include:
Fabricating custom pillows & cushions

Special additions like tufting, buttons, cording, and other custom options

Reupholstery of any type of outdoor cushion

Foam replacement with outdoor grade foam

Fabric consultations
With four levels of service to choose from, there's an option for every need!
If you'd like to schedule a consultation to discuss the reupholstery or restoration of your outdoor furniture, connect with us today!


Most Popular
Restore
Full Restoration
We remove the finish by sandblasting, treat rust, make welding repairs or fabrication, powder coating in your chosen color. We can repair, retie seat springs, make all new cushions with exterior foam and outdoor fabrics.
Refinish
We remove the finish by sandblasting, treat rust, make minor repairs, and powder coating in your chosen color. We'll fabricate and/or design new cushions with exterior foam and outdoor fabrics.
Preserve
We'll remove the finish by stripping or sandblasting, and powder coating in your chosen color. We'll reupholster existing cushions with new outdoor fabrics.
Repair
We'll power wash, treat fabrics with antimicrobial treatment, conduct minor repairs, and touchup paint.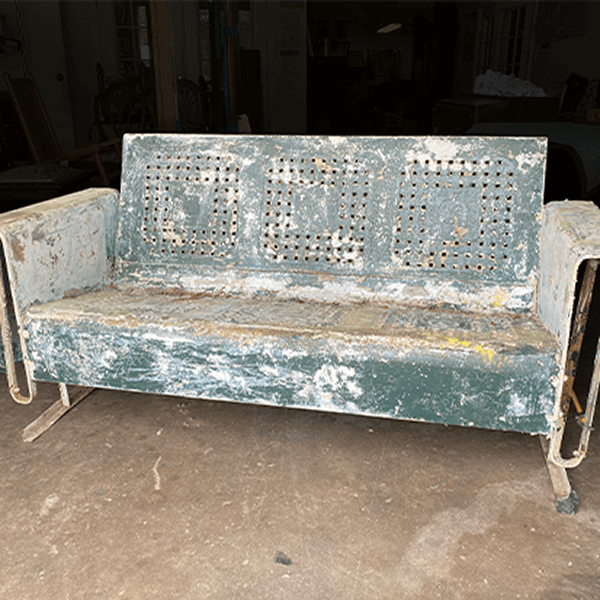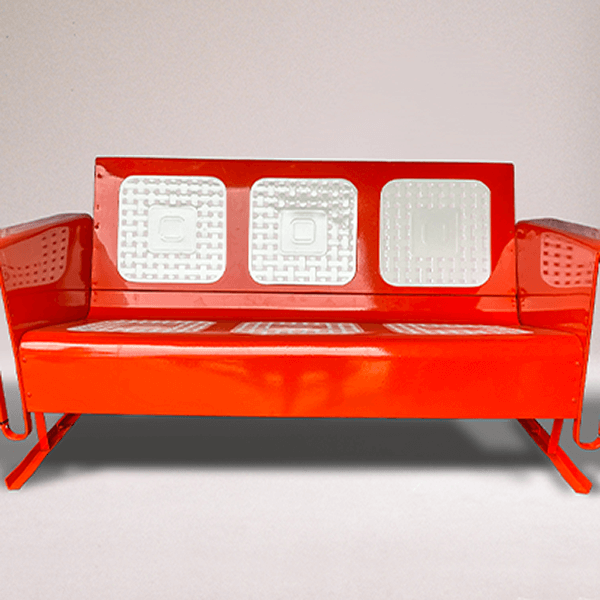 Contact us
Connect with us today to talk with one of our Restoration Consultants about your outdoor furniture repair & restoration needs!


Request A QuoteGive Us a CallChat With Us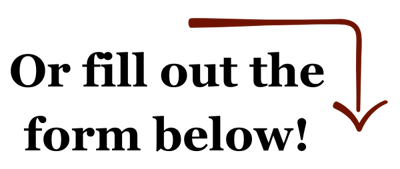 Looking for other services? Check out
Office | Fire & Water Damage